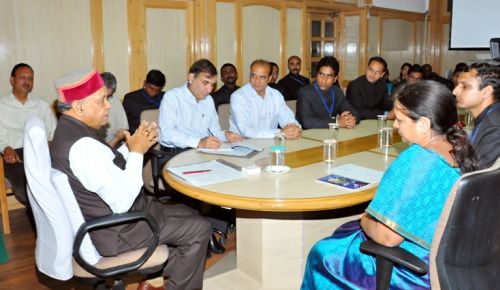 Chief Minister Prem Kumar Dhumal gave a clarion call to the foresters preserve green wealth of the country by striking a balance between development and environment in association with local stakeholders. He was interacting with the Indian Forest Service (IFS) probationers who met the Chief Minister in his office on their visit to Himachal Pradesh, here today.
Chief Minister said that forests were precious wealth and Himachal Pradesh had taken a lead in the country by imposing complete ban on green felling and had launched various schemes aimed at preservation of the same to maintain ecological balance. He said that 'Sanjhi Van Yojna' had been a grand success with the participation of rural masses who had been declared as major share holders under the scheme. He said that massive plantation drive had been carried in different parts of the State which had resulted in increase of forest cover. He said that the State Government had not allowed exploitation of forest wealth for income generating activities in any manner. He said that while preserving the precious forest wealth it was also necessary to carry forward with the developmental activities and it would be the challenging prime responsibility of the foresters to strike a balance between the both. He said that with the conservation of forests in Himalayan Region, ecological conditions of the entire country would be improved. He said that state holders residing alongside the forest areas were traditionally experienced to check forest fire.
Prof. Dhumal apprised probationers that people of Himachal Pradesh had voluntarily stopped the use of plastic carry bags which showed their deep concern towards preservation of pristine ecology of the State. He said that the State Government had also launched a scheme to remove Lantana weed from forests which had been hampering forest growth. He said that ban on 'Khair' tree felling had been lifted to allow people generate income out of the sale of the same in open market. He said that Bamboo cultivation had also been declared a commercial crop to add to the income of the farmers.
R.K. Gupta, Principal Chief Conservator of Forests, welcomed the Chief Minister and thanked him for providing probationers opportunity for interactive session. He said that the State was live to its environment protection responsibilities and was initiating all effective steps to conserve the same. He said that forest cover had increased by over 11 kms. in the State. He said that Forest Rangers College sanctioned for the State would soon start producing more professional foresters.