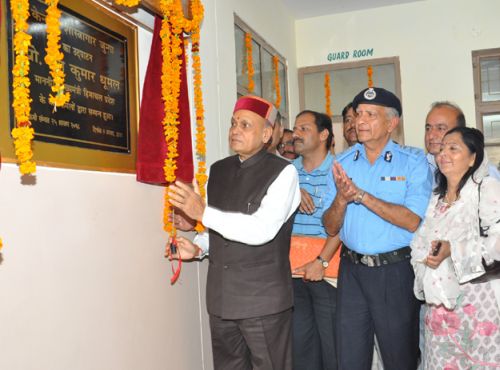 Chief Minister today dedicated newly constructed Central Armoury Building with Barrack Block in Police Battalion campus at Junga, constructed at a cost of Rs. 118.80 lakh to the people of the State. Speaking on the occasion Prem Kumar Dhumal said that Government is strengthening the Police organization with men and material both and exhorted that police officers should adopt upright approach to solve the people's problems and maintaining law and order besides working with devotion and dedication. He said that they should implement directions/orders from the higher authorities including from the Chief Minister which were in order so that people get justice. Chief Minister said that Rs. 71 crore would be spent under Police Modernization Programme during next five years while Rs. 78.56 crore had been spent under the same programme during past four years. He said that during the earlier term of 1998-03, over 900 police quarters were constructed all over the State which had helped in bringing efficiency in performance of duties by the police personnel. He said that 329 housing buildings and 42 office buildings had been constructed and dedicated to the police personnel during past four years providing them proper residential and working environment within the vicinity of their places of posting. He said that the State Government had posed a project of Rs. 70.66 crore for funding to the Government of India under Police Modernization Programme earmarking a sum of Rs. 16.02 crore for purchase of vehicles so that frequent mobility and vigil over anti social elements was kept by the police personnel within their jurisdiction; Rs. 12 crore over security and training activities; Rs. 12 crore to upgrade the forensic laboratory science infrastructural facilities; Rs. 9.29 crore over strengthening of communication network, wireless system etc.; Rs. 6.15 crore for office equipments; Rs. 5 crore for upgradation of the traffic control system; Rs. 4.74 crore for purchase of ammunition and Rs. 1.74 crore for purchase of arms etc..
Dhumal said that the State had main Forensic Science Laboratory stationed at Junga while two regional laboratories had been set up at Dharamshala and Mandi to cater to the examination requirements of various cases in the region. He said that two more forensic science laboratories would by set up in the districts of Sirmour and Hamirpur so that examination reports were prepared locally to speed up the legal process in different courts of law. He said that during past three and a half year besides recruiting 3100 youth as police personnel, 2,500 non-gazetted and 115 gazetted officers were granted promotions. He said that Himachal Pradesh happens to be the first State in entire North India for raising a full-fledged women battalion. He said that during the earlier tenure of 1998-03, the State Government had posted three women constables in each of the police stations to check atrocities on women in the area and help aggrieved confide their grievances with them conveniently.
Chief Minister said that the role of police in maintaining law and order, protecting life and property of the people is challenging one and added that police is the face of the government at the village level where their performance reflect over the success of the governance. He said that police modernization had emerged the need of the hour keeping in view the threats being from anti social elements especially organized one. He advised the police personnel to deal with common man as a friend and give patient hearing to his grievances. He said that the police personnel were duty bound to ensure every section of the society sense of security, fearlessness and best law and order conditions while maintaining strict vigil over the criminals and anti-social elements. He said that the role of the police had changed in the present day global scenario when they were required to deal with different types of situations intelligently.
Later Chief Minister also visited the Forensic Science Laboratory and updated himself about the examination process being carried by the scientists.
Earlier, Director General of Police Dr. D. S Manhas welcomed the Chief Minister and detailed activities of the police department. S.R.Mardi, Additional Director General of Police (Law and Order) proposed vote of thanks and assured the Chief Minister that all out effort would be made to deliver best of the service to the common man in the State and make Himachal Pradesh a crime free state.