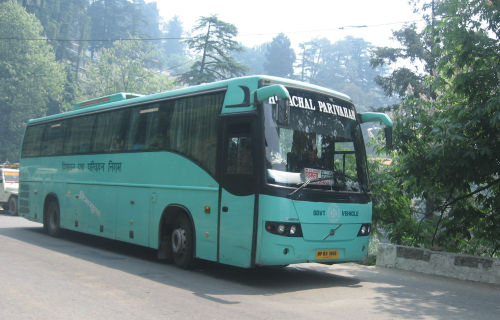 Himachal Pradesh Transport Minister G.S. Bali today flagged off AC buses between Mcleodganj-Chandigarh and Chamba-Shimla from Kangra. He also announced that the State Transport would soon purchase 20 new Volvo and 50 AC buses for comfortable journey of the commuters.
Bali said that the Board of Directors of Himachal Road Transport Corporation (HRTC) during its recent meeting had decided to ply AC buses on different routes for benefit of tourists and general public. He said that bus fare of AC buses would be 15 percent more than the ordinary buses due to greater consumption of diesel and higher taxes.
Transport Minister said that the HRTC has taken a decision to ply AC buses in addition to ordinary buses from district headquarters to State Capital and other prominent tourists and places of religious importance. He said that the new AC and Volvo buses being procured would also be plied on these routes. He said that district religious circuits would be developed for welfare of people of the State as well as tourists and better bus services would be introduced on these routes. He said that Volvo bus service was already plying between Shimla-Manali and Shimla-Dharamshala. He said that similar bus services would be introduced on other routes also.
Bali said that HRTC has purchased 500 new buses for providing comfortable journey to the commuters. He said that 800 new buses would be provided to the State under Jawaharlal Nehru National Urban Renewal Mission. He said that all the bus stands in the State would be upgraded besides workshops of HRTC would be equipped with latest equipments.