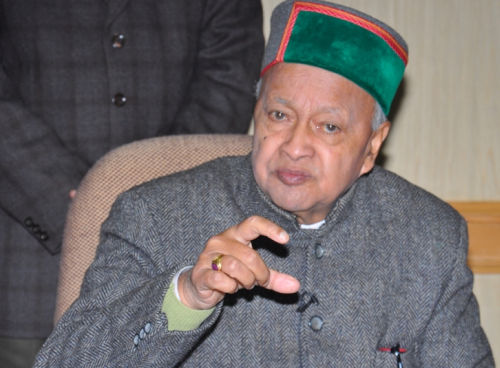 Shimla: Himachal Pradesh Chief Minister Virbhadra Singh has lambasted at previous BJP led regime and blamed Dhumal led Govt for subverting democracy by snooping into the privacy of his political opponent.
In a press conference at Shimla, Virbhadra Singh hold the previous government responsible for snooping on political opponents and Govt officials. Singh claimed that even his number was being tapped. He accused Dhumal Govt for subverting democracy by tapping about 1000 phone numbers and added that Prem Kumar Dhumal could not escape responsibility for eavesdropping on phones of others.
He said that the forensic report has confirmed the phone tapping and the home department is verifying the numbers which were being tapped illegally. He made clear that anybody found guilt would be dealt with in accordance with law and it would not matter whosoever the person may be. CM said "Phone tapping is illegal and infringement of democratic rights of people, especially right to privacy and all those involved in this act would be severely dealt with,"
Prem Kumar Dhumal has denied any illegal phone tapping allegations, he stated that it was home secretary who decides that whose phone is to be put on observation and not the chief minister; however chief minister alleged that the tapping could not have taken place without the knowledge of the then chief minister Prem Kumar Dhumal, who was also the Home minister. Singh said
"Dhumal was Home minister. How he can deny that phone tapping was not in his knowledge? He must own the moral responsibility if it was done. He cannot absolve himself of this conspiracy,"
Though, Singh didn't divulge the names of people whose phones were kept under surveillance, he said that there was intrusion in the privacy of some politicians and the huge number of telephones allegedly tapped by the government indicated that phone taping was done with wrong intentions and all these aspects were being looked into.