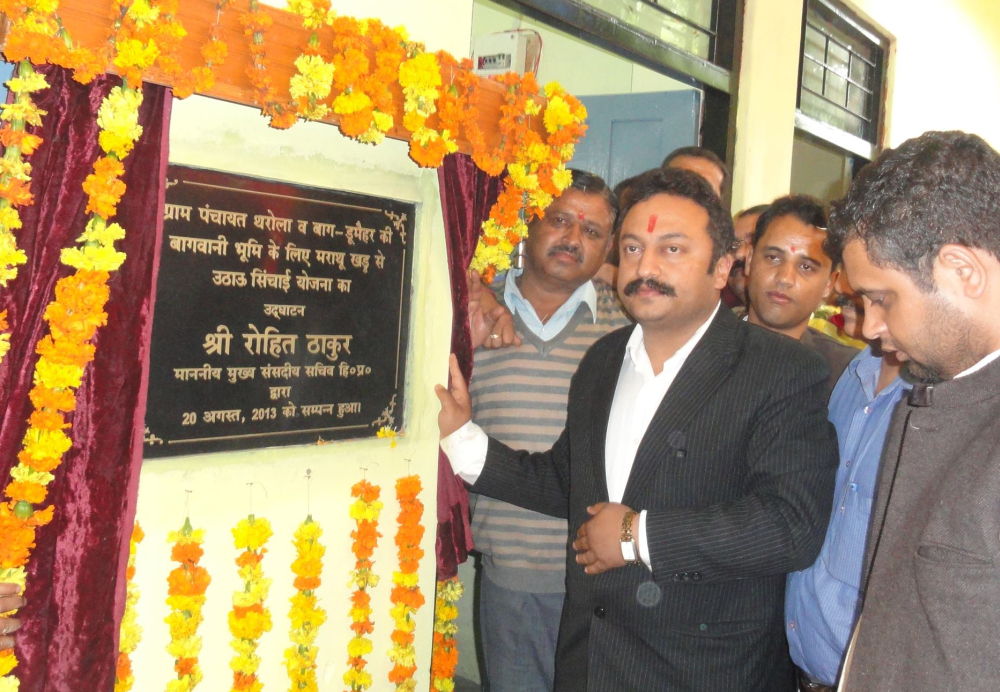 Jubbal: Chief Parliamentary Secretary Rohit Thakur assured to complete Theog-Hatkoti-Rohru road in a stipulated time. In the concluding ceremony of Sports Meet held at Gram Panchayat Jhagtan in Jubbal area of Shimla district, Thakur accused the previous Government of ignoring Theog-Hatkoti road, due to which horticulturists of the area had to suffer loss of Rs. 700 crore during the year 2010 due to adverse road conditions in the area.
Rohit Thakur said that the State Government was laying special emphasis on maintenance of roads in the region and claimed spending Rs. 85 crore on construction, maintenance and metalling of roads in Jubbal-Kotkhai area during last one and a half years under centrally sponsored and State Schemes.
Thakur claimed that 105 kms road length was metalled during the last one and half years whereas the previous Government during its five years of tenure metalled on 75 kms. road in Jubbal Kotkhai Vidhan Sabha constituency. He said that a vegetable market was being constructed at Anu in Jubbal Tehsil which would ensure remunerative prices to the farmers of their produce.
He said that Controlled Atmosphere (CA) stores would be constructed at Anu, Khara Pattar and Baghi. Thakur said that Government was ensuring that the horticulturists do not face any hardship in transporting their produce to the markets during this apple season.
He said that the State Government has taken a decision to introduce 22.5 kgs standard carton boxes for benefit of the apple growers. He said that the World Bank has approved Rs. 1000 crore in horticulture sector which would give new dimensions to development of horticulture sector in the State.
Chief Parliamentary Secretary said that Rs. 17 crore were sanctioned for irrigation and drinking water schemes in Jubbal-Kotkhai area during the present tenure of the State Government whereas only Rs. 12 crore were sanctioned during previous Government for such schemes.