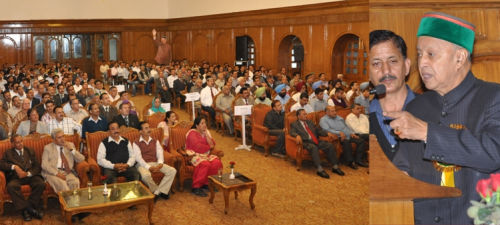 A first State-level Horticulture Officers Conference-2013 organised by Himachal Pradesh Horticultural Services Association (HPHSA) held at Peterhof here today. Chief Minister Virbhadra Singh, Horticulture Minister Vidya Stokes, President, HPHSA, Dr. Devender S. Thakur, Vice Chancellor, Dr. Y.S. Parmar University of Horticulture and Forestry Dr. Vijay Singh Thakur, Additional Chief Secretary, Horticulture, Vineet Chaudhary, Director, Horticulture Dr. Gurdev Singh, Former Horticulture Director Dr. K.C. Azad and Dr. C.R. Sharma, Horticulture officers, progressive farmers and horticulturists were participated in the conference.
While speaking at the Conference, Chief Minister Virbhadra Singh stressed for the diversification of fruits cultivation and plantation of new varieties of apple and other fruits to compete in global markets. He said that horticulture experts and officers should think to meet the future needs of productivity and quality. He was speaking at
Virbhadra Singh said that Himachal Pradesh had diverse agro-climatic zones which facilitate the cultivation of almost all temperate and sub-tropical fruits like apple, pear, cherry and peach, plum, kiwi, mango, citrus fruits and strawberry etc. He said that European fruits and the Chinese apple were posing threat to Himachal apple and Dr. Y.S. Parmar University of Horticulture and Forestry alongwith Horticulture Department should import new varieties of fruits to compete with global markets. He said that State Horticulturists pioneered in delicious varieties of apples but most of the plantations were now old which needs to be replaced with new high yielding varieties.
Chief Minister said that Dr. Y.S. Parmar University and Horticulture Department should prepare new progeny of various varieties of fruits to provide fillip to the horticulture in the State which plays an important role in improving the economic condition of the people of the State. He said that Himachal was known as 'Apple State' due to its delicious apples and now heading towards becoming a Fruit State of the country. He said that Horticulture Extension Officers were friends, philosopher and guides of horticulturists and they should disseminate the latest techniques and knowledge to grow best varieties of fruits.
He said that floriculture was another area which has lot of potential in the State. He said that Horticulture Officers should guide the farmers to grow flowers as per the demands and the market requirements.
Virbhadra Singh said that a blanket ban was imposed on cutting of mango trees during his previous tenure but still in some areas these were being axed illegally. He said that forest department should act strictly to stop this practice and should plant fruits trees and berries in the forests seeking support from Horticulture Department in order to provide food to the monkeys and other animals and birds. It would also help in checking the menace of monkey in populace areas, he added.
Chief Minister said that climate in middle and upper hills was conducive for the production of off-season vegetables and farmers should take benefits of this advantage being hilly State to improve their economy. He said that protected cultivation under poly houses was being picked up in the State and farmers were fetching remunerative prices for their floricultural and vegetable produce. He said that efforts were being made to create and encourage infrastructure for post harvest handling and processing of horticulture produce. He said that research and development was necessary to keep pace with developments in horticulture sector in order to take the challenge to feed the growing markets of the Country.
Virbhadra Singh honoured progressive farmers and horticulturists besides releasing a souvenir on the occasion. Chief Minister was also presented a cheque of Rs. 3.50 lakh towards Chief Minister Relief Fund by Horticulture Minister Vidya Stokes on behalf of HPHASA to mitigate the sufferings of recent heavy rain victims.
Irrigation & Public Health and Horticulture Minister Vidya Stokes said that Himachal Pradesh has emerged as a model State in the country in horticulture sector which had helped in improving socio-economic conditions of the rural people. She said that area under horticulture in 1950 was just 791 hectares with fruit production of 1200 metric tonne which has increased to 2.14 lakh hectare with total fruit production of 10.28 lakh metric tonne. She said that Rs. 226 crore has been received under Horticulture Technology Mission for mechanization, creation of water sources, organic farming and establishment of nurseries etc.
Stokes said that 80 percent assistance was being provided to set up anti hail nets to the horticulturists to protect their crops from hails besides 80 percent assistance for construction of poly houses. She asked the horticulture officers to work with dedication and devotion to bring more area under this sector and propagation of horticulture activities in the State. She also urged the Chief Minister to fill up various vacant posts of horticulture officers besides removing their pay anomalies. President, HPHSA Dr. Devender S. Thakur detailed about the various activities of the Horticulture Officers and apprised demands of the Association.