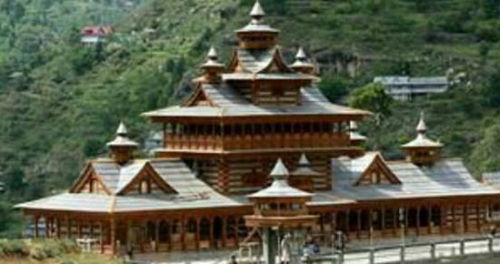 Adequate funds were being provided for renovation of ancient temples while maintaining its original architecture and grant-in-aid had been enhanced, said Chief Minister Virbhadra Singh at Narain village in Rohru Tehsil of district Shimla after performing yajna and participating in other ritual ceremonies of the ancient Narain temple, which was recently re-constructed.
The reconstruction work of Narain temple was undertaken in the year 2007 and as many as 50 craftsmen and artisans were assigned the task of completion together with maintaining its traditional architecture and wood work. As much as Rs. three crore were spent on its re-construction.
Singh said that the State Government was committed for maintenance of such temples having historical importance adding that care was also being taken to keep their architecture intact.
Chief Parliamentary Secretary Rohit Thakur, local MLA Mohan Lal Brakta, Ex MP Pratibha Singh, Ex Minister Narinder Bragta, Vice Chairman, HIMUDA Yashwant Chhajata, Vice Chairman, Pradesh Road Transport Corporation Harish Janaratha, Chairman, Shimla-Kinnaur APMC Mahender Stan, former MLA Khushi Ram Balnatah, Deputy Commissioner, Shimla Dinesh Malhotra, OSD to Chief Minister T.C. Janartha, Chairman, Himachal Pradesh Board of School Education Balbir Tegta, Director, Language, Art and Culture Arun Sharma and other senior officers were also present on the occasion among others.