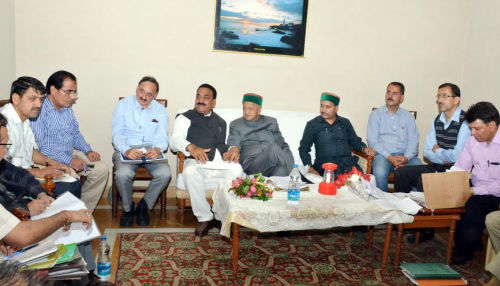 Chief Minister Virbhadra Singh revealed that the Govt has issued directions were issued to the private company working on Theog-Kharapathar-Hatkoti road to complete the on going work as soon as possible.
Chief Minister in a meeting with various officers at Rohru yesterday directed them to ensure the repair and maintenance work of all the roads in upper Shimla so that the people may not face any difficulty in transportation of their apple produce.
Chief Minister said that priority be given to complete the on going work of Kharapathar-Hatkoti road besides improving the condition of Khabal-Dhanwari, Sheel-Baral-Karchhari, Thalli-Amoi-Tiproli-Gokswari link roads so as to facilitate the commuters as well as the horticulturists. He said that other on going developmental works should also be expedited and directed the PWD authorities to ply buses only on those roads which were safe for heavy vehicles.
Virbhadra Singh directed for completion of bridges on priority in the area which include Barsheel, Shishiyara, Bakholi, Ghushali, Nigalu, Bakhirana and Sandhor foot bridges.
He said that the detailed project report of the roads on MLA Priority list be submitted soon for approval by the Government. Chief Minister said that the authorities may exercise the option for pre-fabricated structures in the remote Dodra Kwar area to avoid un-necessary delay for construction of government buildings.
Chief Minister also directed to identify proper place for construction of Rest House at Dodra.
He also directed IPH authorities to explore possibilities of channelising the Pabbar River so that the project could be submitted for funding to GoI. He said that the Central Water and Power Research Centre, Pune was already studying the channelization of Pabbar river and a team of experts from Pune would be visiting here soon. He said that the Pabbar river channelization project would cost around Rs.100 crore.
To solve the low voltage problem of the region, Chief Minister also directed the concerned officers to install as many as 10 transformers in the areas
Chief Minister directed for obtaining forest clearances so that the developmental works may not hinder.
Vice Chairman of HIMUDA Yashwant Chhajata, Deputy Commissioner, Shimla Dinesh Malhotra and other senior officers of various departments were also present in the meeting.