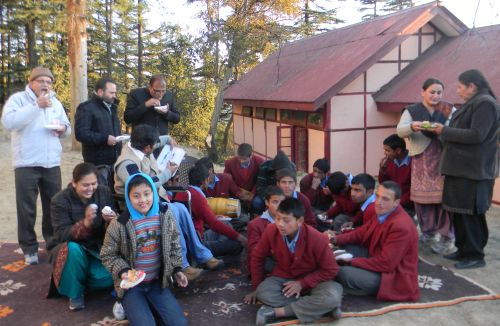 Ashadeep, Shimla based NGO played host to usher in the New Year for the visually impaired children of Visually and Hearing Impaired School, Dhalli.
Keeping up to the promise to these children members of Ashadeep celebrated the New Year with these special children in their school campus at Dhalli in the periphery of Shimla. Breaking the monotony, the day was filled with fun and frolic which also had these special children volunteering to showcase their talent.
Stepping out their best foot forward these children exuded joy and happiness through play, song and dance proving that they too are no less when it comes to sharing the stage with others.
Appreciating the initiative taken by Ashadeep, Visually and Hearing Impaired School, Dhalli, Principal, Kanta said such an effort goes a long way in boosting the morale of these children. Abhishek a visually impared child said, "this day would indeed be memorable for them as it also comes as a celebration not only to welcome the new year but also a moment of joy and happiness with friends before they leave for the vacations that commence tommrow."
President Ashadeep, Sushil Tanwar said, "it has always been an attempt of Ashadeep to bring in smile on the faces of the marganilized sections of the society. Keeping this aim Ashadeep family ushered in the New Year, 2012 with an endeavour to bring in joy in the lives to the visully impaired children.