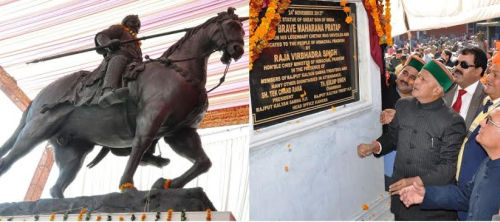 Chief Minister Virbhadra Singh today announced to constitute Rajput Kalyan Board and Brahmin Kalyan Board in the State. These Boards will be constituted under the Chairmanship of the Chief Minister.
He made this announcement during a function organized by the Rajput Kalyan Sabha and Trust at Kangra after unveiling the statue of Maharana Pratap at Maharana Pratap Complex. The statue has been created by Faqir Charan Farida, a renowned sculpturist of the country. Chief Minister lauded the work of Farida who had also sculptured the Rani Jhansi Bai statue in the State capital.
Appreciating the efforts of the Rajput Kalyan Sabha and Trust for erecting this statue, Virbhadra Singh said that Maharana Pratap was a great patriot and warrior who bravely fought against the invaders. He also remembered the heroes of freedom struggle who laid down their precious lives for the cause of motherland. Earlier, Col. M.S. Parmar, Vice President of Rajput Kalyan Sabha welcomed the Chief Minister
Food and Civil Supplies and Transport Minister G.S. Bali, Agriculture Minister Sujan Singh Pathania, Col. M.S. Parmar, Vice President of Rajput Kalyan Sabha, Col. Kuldeep Singh, President, Rajput Kalyan Trust, Rana Tek Chand Katoch, President, Rajput Kalyan Sabha, Brij Bihari Lal Butail, Speaker, H.P. Vidhan Sabha, Jagjivan Pal, Chief Parliamentary Secretary, Sanjay Rattan, Ajay Mahajan, Pawan Kajal and Manohar Dhiman, MLAs, Kuldeep Singh Pathania, Chairman, H.P. State Pollution Control Board, Jagdish Sipahiya, Chairman, Kangra Central Cooperative Bank, Kewal Singh Pathania, Vice Chairman, State Forest Corporation, Raghuvir Singh Bali, Youth Congress leader, Dr. K.K. Katoch, Vice Chancellor, Agriculture University, T.G. Negi, Advisor to the Chief Minister and C. Palrasu, Deputy Commissioner were also present on the occasion.