Shimla: The State Cabinet has accorded its approval to allot 780 MW Jangi-Thopan-Powari Hydro Electric Project in Kinnaur district for execution to SJVNL. It was also decided that the Power department would come up with timelines for all projects allocated on nomination basis to Central PSUs or State PSUs.
The Cabinet accorded its approval to bifurcate Banuala Baroond Small Hydro Electric Project allotted to M/s Gayatri Hydel Projects(P) Ltd. into two stages i.e. stage-I Barnuala Baroond having capacity of 2 MW in the elevation range of 1990-1765m and stage-II Barnuala Baroond–I having capacity 0.80 MW in the elevation range 1700-1615m. The developer has to deposit upfront premium, security charges and processing fee afresh applicable as per prevailing Hydro Power Policy.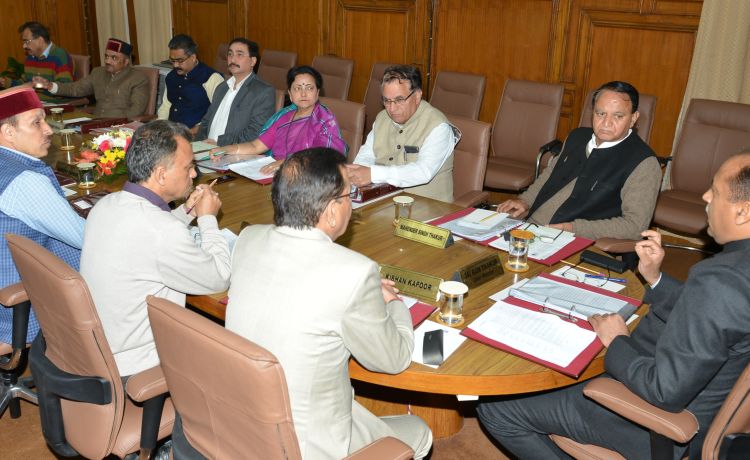 The Cabinet decided to give its approval in principle to designate Honorary Head Constables and Head Constables completing 32 years of service as Honorary Assistant Sub Inspectors in Police Department.
It was decided in the Cabinet that the State Industries department would hold Global Investor Meet during the month of February next year to woo entrepreneurs to invest in sectors such as food processing, agriculture, infrastructure development, wellness centres, Ayush centres, health, education, tourism, adventure tourism, eco-tourism in the state.
Cabinet approval to start coaching facility for meritorious students
The Cabinet decided to launch Medha Protsahan Yojana to provide coaching facility to meritorious students of Himachal Pradesh for competitive examinations such as CLAT/NEET/IIT-JEE/AIIMS/AFMC/NDA conducted by UPSC/SSC etc.
Under this Medha Protsahan Yojana, financial assistance of rupees one lakh or as per the actual, whichever is less will be provided to the meritorious students whose family income does not exceed Rs. 2.50 lakh per annum. A sum of rupees five crores will be spent under the scheme during the current financial year.
The Cabinet decided to introduce Swathya Mein Sahbhagita Yojana in the State to ensure improved access and affordability of quality health care services in rural areas and to provide impetus to growth of private sector health care investments to ensure alignment with public health goals and enable making health care system effective, efficient, safe and affordable. Under this scheme, capital subsidy @ of 25 percent up to investment of rupees one crore in building, machinery and equipments will be provided to any individual, firm, company, trust or society to establish a private Allopathic hospital in prescribed area as per established standards. It will also be provided 5 percent interest subsidy for three years on maximum loan amount of Rs. 75 lakh.
The Cabinet also decided that the birth anniversary of Bharat Ratan Sardar Vallabh Bhai Patel would be held in the State in a befitting manner. The functions would be held at State as well as district level in which Chief Minister and his cabinet colleagues would participate.