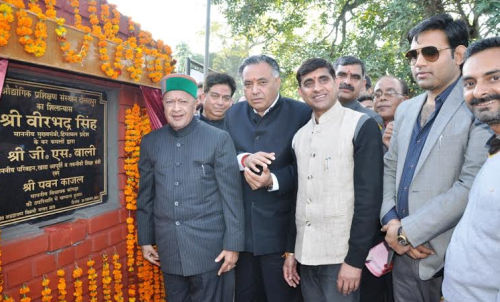 Chief Minister Virbhadra Singh said that roads, education and health sectors were top priorities of the State Government for which there would be no financial constraints.
He said it during his day long Kangra tour, where he laid the foundation stone of Government Industrial Training Institute at Daulatpur in Kangra Tehsil. The construction work will be completed within two years by spending Rs. 381.46 lakh. He also approved to start Science classes in GSSS Daulatpur and said that separate block would be constructed to facilitate science students. He announced to set up 25 hand pumps in Changer area.
Chief Minister said that the State Government has launched Rajiv Gandhi Ann Yojna to benefit various sections of the society. A telephone number had been provided at all fair price shops for the convenience of the consumers who can report any problem regarding availability of ration to the concerned officers or directly to the Chief Minister office.
Food and Civil Supplies and Transport Minister GS Bali said that the State Government had made a provision of Rs. 175 crore to provide pulses, edible oil and salt on subsidized rates to its consumers. An additional provision of Rs. 40 crore had been made to provide 35 kg of ration to the BPL families from next month. He said that 800 new buses would be added to the fleet of the HRTC soon to facilitate the commuters.
The Minister said that the super specialty block of Tanda Medical College was being constructed at a cost of Rs. 150 crore and efforts would be made to develop this medical college at par with AIIMS, Delhi. He said that Engineering College would be started soon at Nagrota and Rampur Bushehr.
Agriculture Minister Sujan Singh Pathania, Brij Bihari Lal Butail, Speaker, H.P. Vidhan Sabha, Jagjivan Pal, Chief Parliamentary Secretary, Sanjay Rattan, Ajay Mahajan, Pawan Kajal and Manohar Dhiman, MLAs, Kuldeep Singh Pathania, Chairman, H.P. State Pollution Control Board, Jagdish Sipahiya, Chairman, Kangra Central Cooperative Bank, Kewal Singh Pathania, Vice Chairman, State Forest Corporation, Raghuvir Singh Bali, Youth Congress leader, Dr. K.K. Katoch, Vice Chancellor, Agriculture University, T.G. Negi, Advisor to the Chief Minister and C. Palrasu, Deputy Commissioner were also present on the occasion.