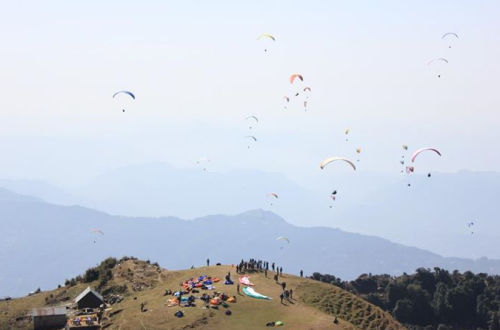 Himachal Pradesh to host seven-day Pre-World Cup Paragliding Championship in October, where more than 100 pilots from across the globe are expected to take part. The event will be organised on Oct 24 to 30 in Bir-Billing area in Kangra district and will be jointly organized by the state tourism department and the Billing Paragliding Association.
Chief Minister Virbhadra Singh launched its Website and said that it was a matter of pride that Paragliding World Cup Association had given approval to organize Pre-World Cup Paragliding-2013 Championship in India from 24th to 30th October at Bir-Billing in Kangra district.
Virbhadra Singh said that the State Government was laying emphasis to develop sports infrastructure and promoting sports talents in the State. In order to motivate the various sports, cash prizes had been doubled for the outstanding players from current financial year. He said that Himachal Pradesh had tremendous potential for adventure sports such as Paragliding, Skiing, River Rafting, Mountaineering and Rock Climbing etc.
Chief Minister said that Bir-Billing in Dhauladhar range of Kangra district had emerged as top five Paragliding sites in the World. He said that initially Hand-gliding was started in 1984 by Israeli Pilots at Bir-Billing and thereafter Paragliding was started in 1992 by French Paragliding Pilots. He said that Paragliding Pre-World Cup was organized by Tourism Department from 2002 till 2007 at Bir-Billing. Then Paragliding Category-II and National Championships were started by the State Youth Services and Sports Department.
Virbhadra Singh said that this year Pre-World Cup Paragliding Championship would be held at Bir-Billing in joint collaboration of State Tourism Department and Billing Paragliding Association (BPA). He said that around four hundred World class Paragliders would fly over the beautiful Dhauladhar range and about one hundred top class Pilots would take part in Pre World Cup Paragliding Championship.
Urban Development Minister and President of Billing Paragliding Association, Sudhir Sharma said that efforts would be made to organize this Championship as a mega-event. He said that World class Scorer Mr. Ulric Jessop would be the Scorer-cum-Observer of Championship. He said that Debu Chawdhary, Indian best Paragliding Pilot and 52nd ranked World Paraglider would be the Technical Event Meet Director. He said that out of hundred world class competitors, 25 seats had been reserved for Indian Pilots.
Sudhir Sharma said that attractive prizes would be given to the winners. First Cash Prize in Overall Category would be of Rs.2.50 lakh, while cash prizes of Rs. 2 lakh and Rs. 1.50 lakh would be given to second and third winners and in Indian Class Category Rs. 1.10 lakh, Rs. 90 thousand & Rs. 70 thousand would be given to first, second and third winners respectively. He said that in Women Class & Sports Class Categories the cash prizes of Rs. 75,000, Rs. 65,000 and Rs. 55,000 would be given to first, second and third winners and Best Newcomer prize would be given a cash prize of Rs. 40,000 amongst Indian Pilots for best performance to boost the sports talents in the Country.
Urban Development Minister said that for the first time in the country, a standby helicopter would be kept nearby landing site to tackle any emergent situation. Besides, Paragliding acrobatic show would also be organized for the first time during the Championship.
Principal Secretary to Chief Minister and Youth Services & Sports V.C. Pharka, Joint Director Tourism Manoj Sharma, BPA Director Anurag Sharma, Vice-President & Member Regulatory Paragliding Committee Suresh Kumar, General Secretary Praveen Thakur, Cashier Umesh Kumar and HP Paragliding Technical Committee Member Arvind Paul and other Members of the Association were present on the occasion.