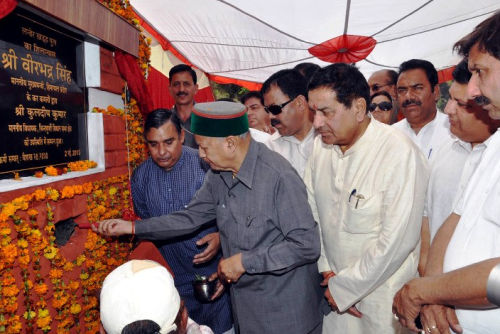 Chief Minister Virbhadra Singh announced opening of Sub Tehsil at Jol in Chintpurni assembly constituency. He was addressing a public meeting at Jabehar after performing the foundation stone laying ceremony of bridge on Lander khad to be constructed at a cost of Rupees three crore, on Sohari-Chaksarai road of Una district today.
Chief Minister said that the State Government would adopt zero-tolerance towards corruption. He said that anyone found involved in corrupt practices, including the employees of the State Government, would be dealt with strictly.
He said that it would be ensured to curb illegal mining in the rivers and rivulets of the State and steps would be taken to bring to the book, those involved in such activities.
He said that the State Government was committed for overall development of the State and efforts were afoot to strengthen the economy by initiating various austerity measures. He said that the State Government had taken numerous decisions and started many ambitious schemes to benefit the every section of the society within four months of its reign.
Chief Minister announced opening of a Primary Health Centre at Chaksarai, constructing a Stadium in Behar Jaswan and installing 50 handpumps in Chintpurni area during current financial year for ensuring adequate drinking water facility to the people of the area.
He said that Jabehar, Takrola, Bhaira and Kinnu schools would be upgraded to Senior Secondary Schools besides starting Science classes in Senior Secondary Schools, Behar Jaswan and Suri.
Industries Minister Mukesh Agnihotri, MLA Kuldeep Kumar and Deputy Commissioner –cum-Commissioner, Chintpurni Temple Trust Abhishek Jain presented a cheque of Rs. 51 lakh to Chief Minister towards Chief Minister's Relief Fund.
Earlier, Chief Minister was given a rousing reception en-route to Jabehar from Una.
MLA and former Minister Kuldeep Kumar welcomed the Chief Minister and said that people would be benefited with the construction of Lander bridge. He said that ten panchayats of Kutlehar area had been included in Chintpurni assembly constituency. He apprised the Chief Minister about various problems of the area.
MLA, Rakesh Kalia and Chintpurni Block Congress Committee President, Master Pritam Singh Jamwal also spoke on the occasion. Forest Minister Thakur Singh Bharmouri, Vice Chairman, HRTC, Kewal Singh Pathania, former Deputy Speaker Ram Dass Malangar, President District Congress Committee Virender Dharmani and Secretary Satpal Raizada, senior leaders of Congress Party and senior officers were also present on the occasion.