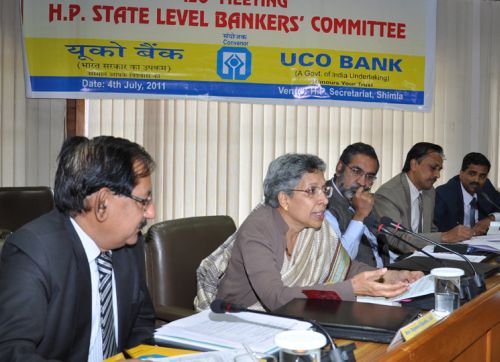 In the 120th State level Bankers Committee meeting, Chief Secretary Rajwant Sandhu said that the banks in Himachal Pradesh have identified 532 villages in the State having population of more than 1000 persons for the purpose of extending banking services under second phase of Financial Inclusion Plan 2013. Chief Secretary said that banks have surpassed the targets under Annual Credit Plan for the fiscal 2010-11 witnessing 117% achievement and disbursed Rs. 6912 crores to 3.02 lacs new units in the State. She said that highest achievement was recorded under MSME sector wherein Rs. 1641 crore were disbursed recording 159% annual achievement. She urged the banks to enhance the flow of credit to Agriculture and cover all the farmer households under Kisan Credit Card Scheme. She said that that Education sector got an allocation of Rs. 3165 crores (18%) in the current budget and priority was given to road building in rural areas to boost socio economic growth of the State.
She said that State Government is committed to bring significant improvement in core sector such as education, health, social services, women empowerment, micro finance, environment protection, employment generation etc. Sandhu said that Government of India had formulated a new scheme, National Rural Livelihood Mission (NRLM) for rural development which is expected to be implemented from 2012. She said that enhanced credit deployment of Rs. 7547cr had been made under Annual Credit Plan (ACP) 2011-12 with increase of 28% over the last year and highest allocation of Rs. 2479 crores (33%) to Agriculture sector under the ACP. She said that 225 villages in district Solan and Sirmaur have been covered under Pradhanmantri Adarsh Yojna under which a Central assistance of Rs. 10 lakhs were being allocated for infrastructural improvement. She urged the banks to enhance flow of DRI advance in all identified villages.
Chief Secretary said that 12% of plan resources were allocated to Agriculture sector to boost the income of farmers and emphasized for use of technology and modern techniques in farming. She said that State Government had initiated several measures like crop diversification project with assistance of Japan International Corporation Agency, Soil Health Management, Organic Farming by setting up of 3.50 lakh vermin-compost units in the State benefitting 21000 farmers so far. Farmers of the state were benefited by launching of innovative schemes like 'Bhed Palak Samridhi Yojna', 'Pandit Deen Dyal Kisan Bhagwan Samridhi Yojna' and Doodh Ganga Venture Capital Scheme', she added.
Chief Secretary urged the banks to implement the Social Security Pension Payment Distribution to the beneficiaries at their door steps through the Business Correspondents Model (BCs) by March, 2012. She emphasized that fruits of speedy economic development that the State was witnessing, should reach to the poor and under privileged sections of the society with the mission of inclusive growth.
Executive Director UCO Bank Ajai Kumar was presided over the meeting said that the State had 1489 branches rendering banking services in the State out of which 1213 branches (more than 80%) were located in rural areas. He urges the Banks to install more ATMs. He said that priorities set by the State Government are well taken care of while finsalising the Annual Credit Plan for 2011-12 with increase in total credit outlay by 28% over last year. Principal Secretary, Revenue Finance & MPP Deepak Sanan, Principal Secretary, Rural Development Sushil Negi, Secretary, Agriculture Ram Subhag Singh, C.G.M. Nabard Naresh Gupta, General Manager, Reserve Bank of India R. Gurumurthy, Representative of various bakes and Senior Officer of State Government were present at the meeting.