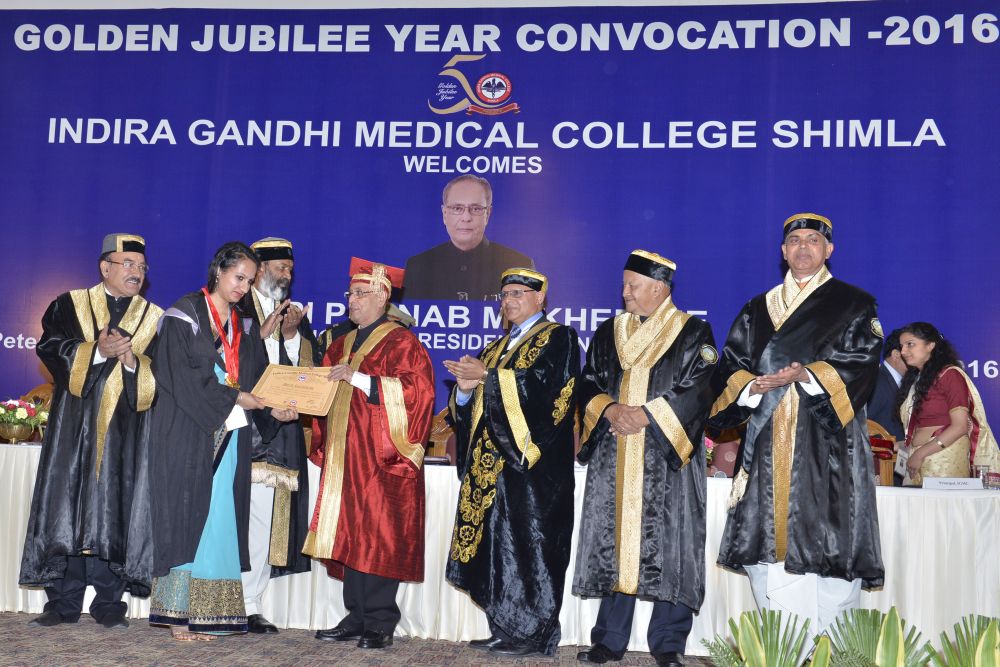 Shimla: Indira Gandhi Medical College (IGMC) celebrated its Golden Jubilee Year Convocation at Hotel Peterhoff today. The President of India Pranab Mukherjee presided over the Convocation function.
The President awarded Gold Medals to meritorious doctors for Master's and Doctoral Degrees who achieved excellence and were toppers.
Speaking on the occasion, the President said that for graduating students Convocation is the culmination of long years of academic work. He told them that while entering the new phase of life they should remember that the skill and knowledge they have acquired over the years will help them overcome future hurdles. He urged them to have commitment and a sense of responsibility towards the society and the country.
Governor and Chief Minister congratulated the students who had received their graduation, post-graduation, post-doctoral degrees and medals.
Governor Acharya Devvrat in his Convocation address said that modern medicine needs to inculcate the marvels of holistic healing which goes beyond treating the physical symptoms of the disease and need to incorporate yoga in health care system.
Describing the old tradition of Convocation, he said that it was already mentioned in 'Upnishad' that the Convocation was a part of education, where after completion of educational pursuit, the teacher gave some instructions to student for the betterment of the society. The instructions given to the student during convocation at that time included, he should behave honestly and increase the knowledge continuously throughout the life and lastly imparted to others in the society so that everyone could get benefited. He added that it was a right time to think and follow such instructions and rich traditions.
The Governor later authorized the Vice Chancellor HPU, Prof. A.D.N. Bajpai to distribute degrees to the candidates who received the medals and the doctorate degrees. Amongst those who received Doctoral degrees were 97 MBBS, 87 Post Graduates (PG), 6 PG Diploma and 6 super specialty candidates.
Speaking on the occasion, Chief Minister Virbhadra Singh appealed to all the passing out graduate and postgraduate students to serve the suffering humanity with compassion, dedication and love, without any monetary greed and live up to the expectations of common man.
He said that it was matter of pride for any institution to complete a long successful journey and celebrate 50 years of its existence.
Earlier, Governor Acharya Devvrat and Chief Minister Virbhadra Singh honoured and welcomed the President.
Prof. ADN Bajpai, Vice-chancellor Himachal Pradesh University proposed vote of thanks.
Registrar, HPU, Pankaj Lalit conducted the proceedings along with Dr. Piyush Kapila.