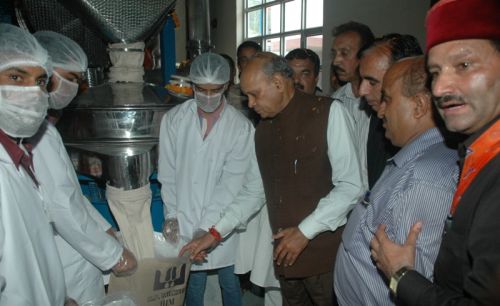 Chief Minister Prem Kumar Dhumal inaugurated Rs. 8 crore Milk Powder Plant having capacity of 5 metric tonne at Duttnagar in Shimla district. This will benefit more than 50,000 milk producers of Shimla, Kullu and Mandi district and will play significant role to bring white revolution in Himachal Pradesh.
Reiterating his Government's resolve for balanced and speedy development of all areas of the State, Prof. Prem Kumar Dhumal said that Rampur area and adjoining areas were producing milk but were not getting remunerative prices so far. He said that keeping in view this, the present State Government had started work on this plant in the year 2009 and completed in a record time by taking up its construction work on war footing. He had a dig on those who become benefactor of people of the area but had not done anything for them. He said that during Congress regime procurement price of milk had been increased Rs. 2 only whereas the present State Government during last four years had increased upto Rs. 7 per litre.
Chief Minister said that Rs. 300 crore ambitious Doodh Ganga Scheme aimed at strengthening the economy of the milk producers in the State and added that for purchase of milch cattle and milk related activities subsidy upto 33 percent was being given to those interested in it.
Prof. Dhumal said that emphasis had also been given to strengthen the infrastructure in the State. He said that all villages were being connected by road. Referring to Rampur area, he said that Rs. 60.50 crore were being spent on construction of roads and bridges in the area. He said that out of 48 panchayats 44 had been provided facility of roads besides 109 villages out of 136. He said that remaining panchayats and villages in the areas would also be provided this facility soon.
Chief Minister said that to benefit the farmers of the State, Government had started various schemes like Rs. 353 crore Pandit Deen Dayal Kisan Baagwan Samridhi Yojna, Rs. 300 crore Doodha Ganga Scheme, Rs. 321 crore, Crop Diversification and Organic Farming Scheme, Rs. 85 crore Apple Replantation Scheme.
Prof. Dhumal said that Government had made sincere efforts to ensure better health care facilities at their door steps of the people and counted various schemes such as Atal Swashya Sewa Yojna, Matri Shakti Sewa Yojna, Mukhyamantri Vidyarthi Swasthya Yojna. He said that every ration card holder of the State were being provided ration on subsidized rates for which a provision of Rs. 130 crore had been made during this year.
Chief Minister announced starting of classes in ITI Kharahan and deployment of Naib Tehsildar or Tehsildar for one week in a month at Taklech so that people of the area do not face any difficulty in getting their revenue and administrative works done.
Chief Minister also performed foundation stone laying ceremony of Rs. 3.26 crore Bagwani Lift Irrigation Scheme at Rattanpur Gaura. Narinder Bragta, Horticulture Minister thanked the Chief Minister for safeguarding the interests of fruit growers and farmers in the State. He also thanked for installing Anti Hail Gun at Kharapattar.
Sher Singh Chauhan, Chairman, Agriculture and Rural Development Bank and President, District Shimla BJP, Mohan Joshi, Chairman, Milk Fed., Brij Lal, Chairman, Kailash Federation, Bhupender Tarel, President, BJP Mandal also spoke on the occasion. Raj Kumar, Pradhan, local Gram Panchyat proposed vote of thanks.
Kishori Lal, MLA, Gian Chandel, Chairman, APMC, Sandeepani Bhardwaj, Member, National Kisan Morcha BJP Executive Committee, Veena Sharma, Member, BJP Executive Committee and other prominent persons were present on the occasion.