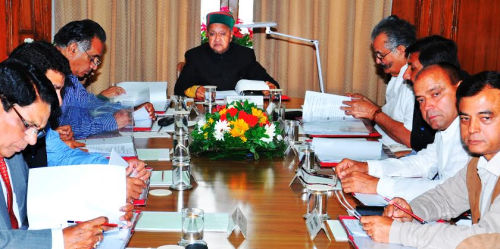 After the poll debacle, it was a routine day at the Himachal Pradesh secretariat. In its first cabinet meeting after the parliamentary election, most of cabinet ministers were present and passed resolution with regard to Lok Sabha Polls and accepted the verdict of the people with humility.
The Cabinet reposed full faith in the leadership of Virbhadra Singh and vowed to pursue the pro-people policies and programmes with great vigour and zeal and resolved to strengthen the secular fabric of the country.
In the meeting, the Himachal Pradesh Cabinet gave its approval for signing of MoU with the Government of India for setting up of one more medical college in the State at Hamirpur with 100 MBBS seats per year. The college will be set up under the scheme of Government of India of establishment of new colleges with a cost of Rs 189 crore each, out of which 90% cost is to be met by GoI and rest 10% by the State Government. The State has already signed similar MoU's with the Government of India for setting up of medical colleges at Chamba and Nahan.
Cabinet also gave approval for installation of Water ATMs in selected towns at Mata Chintpurani in Una, Chammunda Mata Mandir, Kangra Mandir, Dharamshala (near Rainbow School Dari) in Kangra, Vikas Nagar, Ridge, ISBT Tutikandi & local Bus Stand and at IGMC in Shimla on Built, Operate, Manage and Maintain (BOMM) basis.
The Cabinet gave its nod to fill up eight posts of Civil Defence Instructor, Platoon Commander, Chief Instructor, Administrative Officer, Assistant Store Officer, Civil Defence Instructor, Wireless Operator and Wireless Mechanic on contract basis in the Home Guards and Civil Defense Directorate.
Cabinet also decided to give ex-post facto approval for filling up of four vacant posts of Assistant Registrar Cooperative Societies (Class-II Gazetted) in the pay band of Rs. 10,300-34,800 plus grade pay Rs. 5,000 for HAS examination-2012.