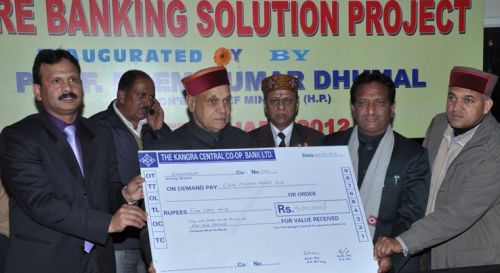 Kangra Central Cooperative Bank had registered an increase in its deposits and advances by record 43 percent during past four years. This was stated by Prem Kumar Dhumal, Chief Minister, while inaugurating Core Banking Solution Project and Administrative Block of the Kangra Central Cooperative Bank at Dharamshala today. Administrative Block had been constructed at a cost of Rs. 2.27 crore while Core Banking Solution Project completed at a cost of Rs. 38 crore.
Chief Minister was presented a draft of Rs. 5.00 lakh by R.S. Mankotia, Chairman and Shri Bhagwan Dass, Vice Chairman, KCCB, while Himachal Institute of Engineering Technology, Shahpur, also presented a draft of 31,000 as contribution towards the Chief Minister's Relief Fund. Chief Minister was also presented another draft of Rs. 35.77 lacs to purchase five modern fire tenders to provide people of district Kangra quality fire services. Additionally draft of Rs. 2.5 lakh was presented by Mahesh Tomar, Director Tean Computer Company, Rs. 1.00 lakh by Rajiv Tata Consultancy Services and Rs. 51,000 by Jyotin Sharma Director Digitec Company, as contribution towards CM Relief Fund. Chief Minister thanked the donors for their generosity and appealed to the people to come forward with their generous donations towards the CM Relief Fund. He said that over Rs. 14 crore had been disbursed to poor and deserving people from the Fund during past four years.
Chief Minister laid emphasis over the solar passive and lighting building which would not only save energy but also create a well desired natural environment. He said that the State Government had also advised its infrastructure creation bodies to incorporate such provisions in the construction activities being undertaken by them. He also thanked Bank for providing funds to purchase five modern fire tenders to strengthen fire services network in the State.
Chief Minister congratulated the Management of the Bank for modernizing its services and creating quality infrastructure to help bring efficiency in the delivery of services to the customers. He said that a new chapter had been added to the golden history of the bank with the addition of modern tools of information technology to facilitate services to its customers. . He also congratulated the Management for linking its banking services with the Reserve Bank of India.
R.S.Mankotia, Chairman of the Bank, thanked Chief Minister for dedicating the newly constructed Administrative Block to the customers of the Bank and introducing Core Banking Solutions to deliver its customers modern banking services. He detailed different activities of the bank saying that total deposits with the Bank had risen to Rs. 5,012 crore with customers crossing figure of 15 lacs. He said that small and marginal farmers besides Self Help Groups were also being financed. He said that more ATMs were being installed to provide any time service facility to the customers. He said that fifteen branches had been proposed to be opened in different areas to facilitate banking services to the women, youth and small farmers to help them opt for self employment ventures. He said that efforts would be made to link all farmers with the bank and motivate them save something.
Sandeep Kumar, Managing Director, KCCB, welcomed the Chief Minister and other dignitaries to the inaugural ceremony and said that the Bank was serving its customers in five of the twelve districts of the State. He said that Core Banking Project was executed by spending Rs. 38 crore and henceforth the Bank would be in a position to deliver to customers modern banking facilities. Amrit Lal Bhardwaj, Director of the Bank, proposed vote of thanks.
Ravinder Singh Ravi, Irrigation and Public Health Minister, Sarveen Chaudhary, Social Justice and Empowerment Minister, Rakesh Pathania, Parveen Sharma and Sanjay Chaudhary, MLAs, Prof. Chandervarkar, former MLA, Shreshta Kaundal, Chairperson, Zila Parishad, Bal Ram Sharma, Chairman, HP State Board of School Education, Bhagwan Dass, Vice Chairman, KCCB, P.L.Thakur, Inspector General of Police, R.S.Gupta, DC, Diljeet Thakur, SP, senior officers of different departments and Members of the Board of Directors of KCCB, and other dignitaries of the district were present on the occasion.