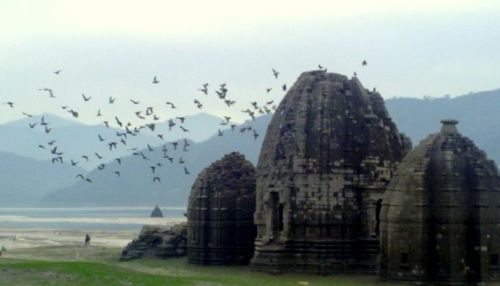 Over three main temples and 20 other smaller temples of the rare Nagara style of architecture, submerged in the Gobind Sagar reservoir since 1964, are virtually dieing their natural death due to Govt. apathy.
The archaeologists have blamed both state and centre Govt as they are blaming each other for their restoration. Neither Centre no state Govt showed interest to fund this multi-crore restorations and transplant project in order to save these temples well in time. Now archeologists' fear that these rare architect will collapsed as their dilapidated condition will not allow them to relocate.
Archaeologist Dr OC Handa said that now it is too late as temples conditions is not good enough to relocate them. Handa added that the temples have drastically corroded their art forms, art relics etched on them over the years due to the silt menace in the Gobind Sagar. Even a team of marine wing of the Geological Survey of India has found that the temples are in bad shape and transplanting them may be a very difficult exercise.
There are over 12-30 temples submerged in the Gobind Sagar since 1964 when the Bhakhra Beas Management Board (BBMB) constructed this reservoir by linking waters of the Beas and Sutlej. Over a dozen temples resurface when the water level of the Gobind Sagar recedes during summers. The temples are over 300 to 800 years old and are built in the Nagara style of architecture during the reins of the erstwhile kings of the former Bilaspur.