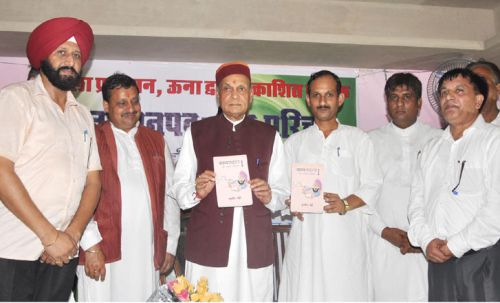 Chief Minister released 'Vayangya' collection titled 'Khabardar Jo Vayangya Likha' of Gurmeet Bedi, literary writer at a function organized at Una yesterday. The collection contains 78 'Vayangyas' which has been published in various magazines.
Speaking on the occasion, Chief Minister lauded the efforts of Bedi and said that his contribution for literature is a lot. He said that Himachal Pradesh has congenial atmosphere which provide appropriate opportunity to the writers for writings. He said literature was a mirror of the society.
Chief Parliamentary Secretary Satpal Satti, Virender Kanwar, MLA Balbir Chaudhary, Vice Chairman, State Water Management Board Parveen Sharma, Deputy Commissioner K.R. Bharati and other prominent personality were present on the occasion.