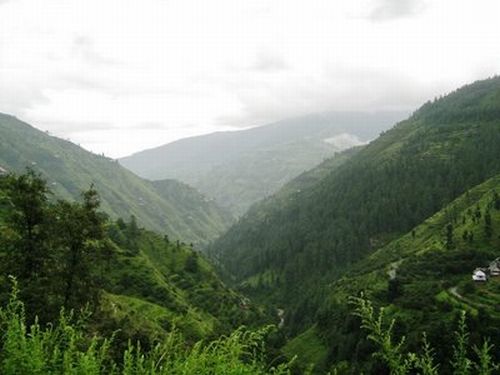 Sitting cozy in the comfort of your living room, with that car parked right outside your drive in flat, you're staring into your system to read this, but there is still a big chunk of Himachalis who live all distant from anything as close as this to comfort. Rural Himachal is devoid of well distributed electricity system and tar-coated roads besides other things we mark eminent for life today, but there are still villages that remain completely aloof of electricity and roads. Not just villages, an entire Bhor panchayat in Chopal constituency of Shimla district remains without any road facility, this, when a law by the State government claims that all panchayat headquarters in Himachal Pradesh should be connected through roads.
Cris-crossing tough road conditions around, the residents of Bohr reach the nearest bus stop at Guma, a village in 10km radius of the panchayat, from where the residents of Bohr still walk their way back home, with all the ration and other things of day to day use, loaded on their backs or on the mules, that they need to walk back, explaining the state, Dei Singh pradhan of the panchayat says "it's very difficult to commute due to lack of roads in the region". For people of Bohr, everyday is a same day, nothing new happens for them and backwardness screams at the top of its voice – demanding for facilities, but there's a point to note – is it right to hold the government solely responsible or are the people of Bhor equally responsible for their apathetic condition?
According to Subhash Manglate, MLA Chopal, the people of Bohr are also responsible for the condition they live in, supporting his claim Subhash told us that 'he has always been by the side of the people eager to work for their development. He added, that he's often visited the region with officials from the government urging people of Boh`r to allot land for the road but all efforts have ruined because of non cooperation from the residents' (who are unwilling to part with their land holding).
While Subhash may hold people of Bohr self-responsible for their condition to a large extent, Udhay Singh Jubbal, who contested Vidhan Sabha election from Chopal in October 1993, on a Congress ticket blames lack of strong leadership in the region. He told us, "until the people of Chopal DO NOT choose a good leader, whoever he or she may be, no proper development can take place! I have visited Bohr Panchayat & it is DISGRACEFUL that nobody has bothered to give you a road".
The blame game will continue, as it does for every other thing in the State, but it is very eminent to find a point of accord where the Bohr residents can be influenced to give up their stubbornness for the sake of their own benefit. But this can only be instilled in their minds by a strong government initiative that guarantees the people 'that their fear of development is just a mere thought' and nothing more.