Celebrating 9 Years of BJP Rule: Programs at Booth Level to Commemorate the Government's Achievements; Direct Contact Initiatives to Highlight Modi Government's Policies; in its Door-to-Door Engagement, BJP Aims to Reach 8 Lakh Families in Himachal Pradesh
Shimla – BJP State President Dr. Rajeev Bindal announced that the Bharatiya Janata Party (BJP) government, led by Prime Minister Narendra Modi, is set to complete its 9-year tenure. To commemorate this milestone, the Himachal Pradesh BJP organization has planned a series of programs at the booth level from May 30 to June 30, 2023.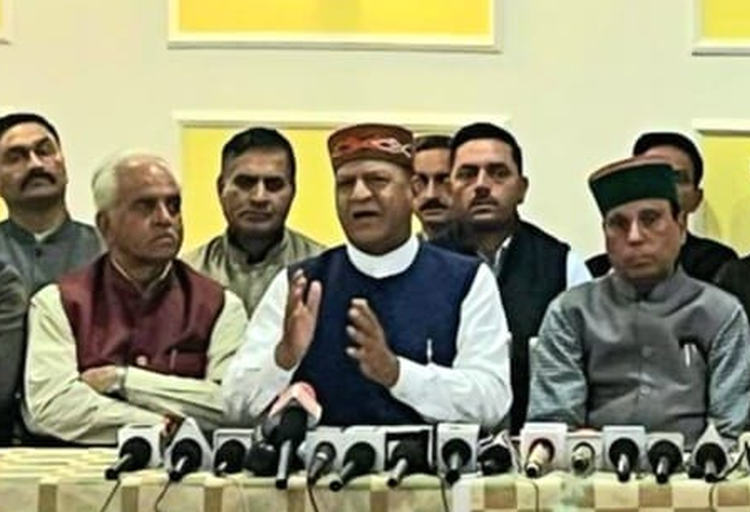 The highlight of these celebrations is the Public Connect Campaign, which aims to establish direct contact with over 9.54 lakhs people across Himachal Pradesh. Under this campaign, the BJP will organize extensive public connect programs, beneficiary contacts, and engagements with different sections of society, including Lok Sabha, Vidhan Sabha, and booth-level programs. The primary goal is to effectively communicate the policies and achievements of the Modi Government's 9-year tenure to the public.
One of the key initiatives within the campaign is the door-to-door public contact program, scheduled to take place from June 20 to June 30. The BJP plans to engage approximately 75,000 party workers at 7,813 booths throughout the state. These workers will strive to establish contact with a minimum of 100 families in each booth, ultimately reaching out to about 8 lakh families. The purpose of this ground-level interaction is to strengthen the relationship between the party and the people while providing an opportunity for the BJP to understand and address the concerns and aspirations of the public.
The Public Connect Campaign serves as an ideal platform to showcase the achievements of the Modi Government over the past 9 years. Through direct engagement with the public, the BJP aims to disseminate information about the government's policies and initiatives. This will create awareness about the transformative changes that have been implemented in various sectors, such as governance, infrastructure development, welfare schemes, and economic reforms.
As the BJP celebrates 9 years of governance, the Public Connect Campaign in Himachal Pradesh stands as a significant opportunity to engage with the public and gain valuable insights into their needs and aspirations. It is an occasion for the party to renew its commitment to serve the people and work towards a prosperous and inclusive future for Himachal Pradesh.