The picturesque Lahaul Valley in Himachal Pradesh has witnessed a surge in tourist arrivals, leading to a significant increase in waste generation and pollution in the region. The Khoksar and Sissu areas, in particular, have seen a rise in commercial establishments and floating populations since the opening of the Atal Tunnel on the Manali-Leh highway.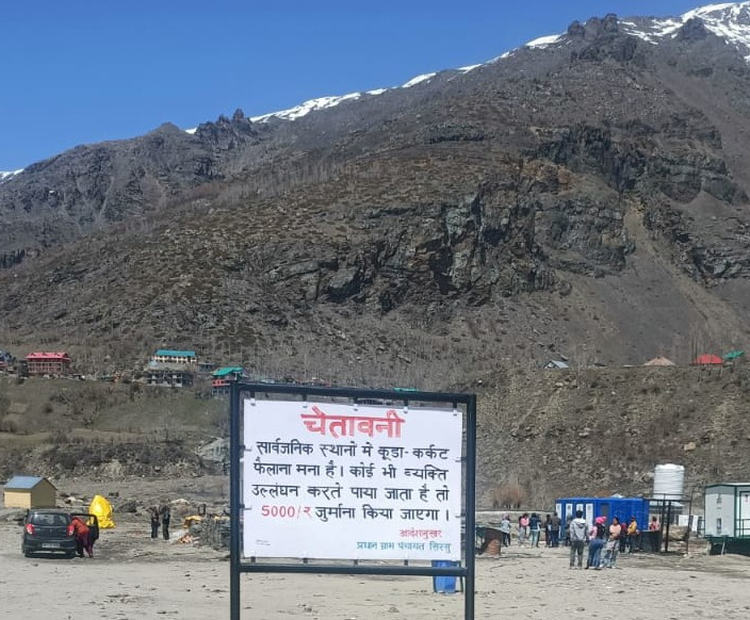 To address the issue, Apoorv Devgan (IAS) Member Secretary, Himachal Pradesh State Pollution Control Board recently inspected the Sissu Helipad's tourist facilities. Devgan directed the concerned authorities to expedite the transfer of the Material Recovery Facility (MRF) site to the Panchayat, so the facility can be developed as soon as possible.
During the inspection, it was observed that the waste generated in the valley is currently being transported by only one vehicle of the Solid and Liquid Waste Management (SLWM) project to the Manali waste treatment plant located at Rangri. Moreover, there have been complaints about the rampant practice of throwing litter into the Chandra and Bhaga rivers, posing a threat to the riverine ecology of the valley.
To address these concerns, Devgan directed the stakeholders to conduct a cleanliness drive within a month to clear the litter in and around tourist facilities. He also stressed upon the need for mass awareness activities among tourists, the local public, and commercial establishments, especially among Dhabas, to keep the area clean and persuade them to segregate their waste for scientific disposal.
The Member Secretary further emphasized the need to launch special drives to create awareness among all stakeholders to keep the valley clean. He directed all stakeholders to inculcate segregation of waste in their behaviour for effective waste management and enforce the ban on single-use plastic items strictly, effective from July 1, 2022.
With the tourist season in full swing, it is imperative for the concerned authorities to take proactive measures to tackle the issue of waste management and pollution in the Lahaul Valley, to preserve its pristine beauty and ecological balance.