Shimla: SJVN has secured Rs 915 Crores green finance from Japan Bank for International Cooperation (JBIC) to fund its 90 MW Omkareshwar Floating Solar and 100 MW Raghanesda Solar Projects.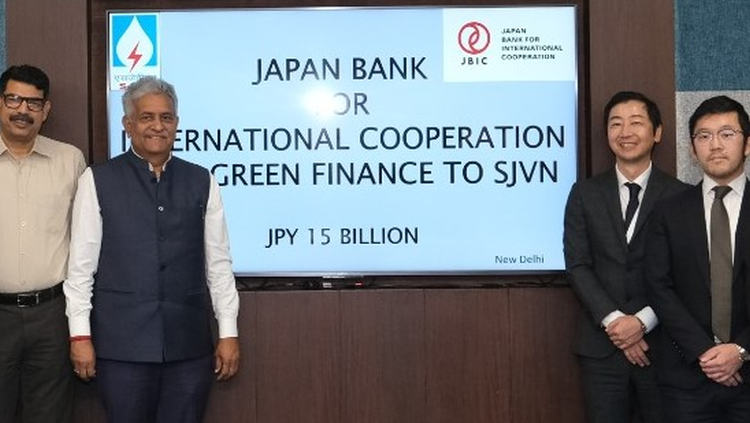 SJVN CMD Nand Lal Sharma revealed that SJVN and JBIC virtually inked the 'Facility Agreement' under the Global action for Reconciling Economic growth and Environmental preservation (GREEN) programme. JBIC is co-financing this loan of Rs 915 crore along with Japanese private financial institutions.
The SJVN will finance the 90-MW Omkareshwar Floating Solar Power Project in Madhya Pradesh and 100-MW Raghanesda Solar Power Project in Gujarat having a combined estimated cost of Rs 1,288.35 Crores. While 60 per cent of the debt arranged will be financed by JBIC itself, the balance will come from commercial banks of Japan viz MUFG Bank and San-in Godo Bank.
Akhileshwar Singh, Director (Finance), SJVN and Nao Kawakami, Director General, New Energy and Power Finance Department II, JBIC, virtually inked the 'Facility Agreement'. On this occasion, Surendra Lal Sharma, CEO, SJVN Green Energy, Makoto Uchida, Managing Executive Officer of JBIC and other Senior officials from SJVN & JBIC were also present.
Nand Lal Sharma reiterated SJVN's commitment to achieving 25 GW of generation capacity by 2030, more than half of which is bound to come from Solar and Wind resources. The two projects presently being financed by JBIC are scheduled to commission during the current calendar year and will produce about 450 MU of electricity annually. He further emphasised upon more GREEN Financing of SJVN projects by JBIC fin the near future.