Yatra aims to unite the Nation against communal and divisive forces: Rahul Gandhi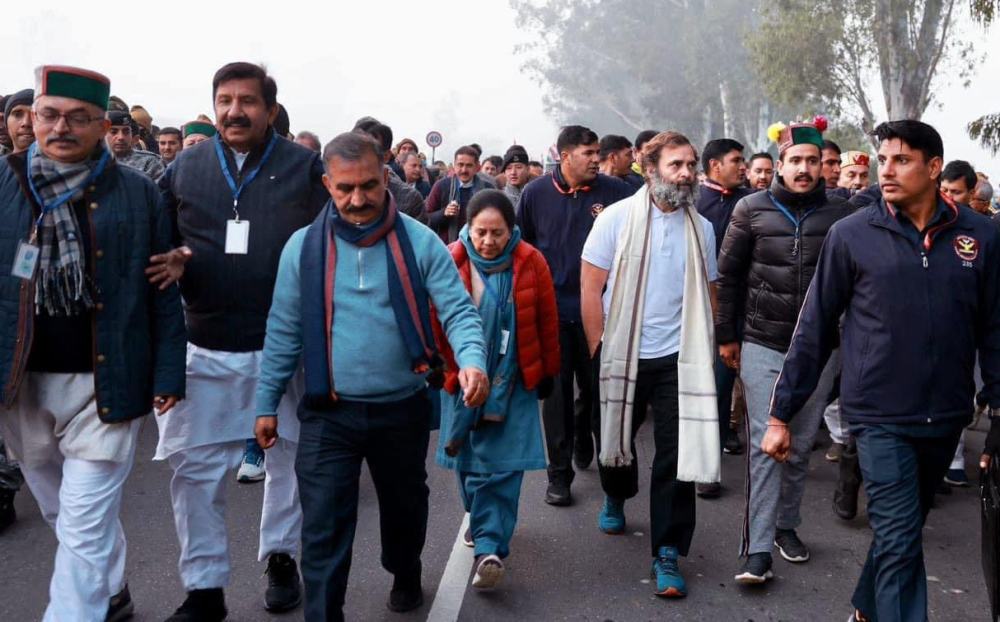 Malout/Indora: Bharat Jodo Yatra entered Manser in Kangra district on Wednesday morning. Rahul Gandhi was accorded a warm welcome by Chief Minister Sukhvinder Singh Sukhu and other senior leaders of the Congress party.
After entering Himachal at the border village of Ghatota, the Punjab State Congress President Raja Warring handed over the Tricolour to Chief Minister Sukhvinder Singh Sukhu and State Congress President Pratibha Singh.
This 24-kilometre Yatra starting from Manser Toll Plaza will converge at Malout Village in the Indora area of Kangra district and is scheduled to enter Jammu and Kashmir State on 19th January.
Rahul Gandhi said that the Bharat Jodo Yatra was aimed at uniting the Nation against the communal and divisive forces and giving a befitting reply to the nefarious designs of the BJP and the RSS.
"My aim is to unite the people and the nation against anti-people policies of the Bharatiya Janta Party," said Gandhi.
Gandhi blamed BJP for failing to address the vital issues of unemployment and inflation and involved itself in nepotism by providing benefits to its favourites.
Rahul Gandhi's yatra spanning 3,570 km, started from Kanyakumari in Tamil Nadu on 7th September 2022 and will conclude in Srinagar by 30th January 2023.