Sujanpur: Senior BJP leader and state Chief Minister Jai Ram Thakur taken jibe at the Congress and called it a divided house. Jai Ram Thakur, while addressing a public meeting at Chowki in Sujanpur Assembly constituency of Hamirpur district today, said that the Congress party in Himachal Pradesh is a completely divided house and the second line leaders of the party are busy fighting for their survival as they do not trust their own office bearers.
The Chief Minister while taking a dig on the Opposition leader Mukesh Agnihotri said that though Mukesh Agnihotri considers himself a big leader of the Congress party, but he is afraid that people of his own party may deprive him of his position. Thakur stated
"He is trying to mislead the people through irrelevant statements against BJP candidate Anurag Thakur but the people will not tolerate it and will give proper answer at the right time"
Jai Ram Thakur said Anurag Thakur is a popular leader and people of all age groups are walking with him step by step. He hoped that the people of the state won't be misled by the rhetoric of Congress leaders who are scared of heavy support that Anurag Thakur is getting in the Hamirpur parliamentary constituency.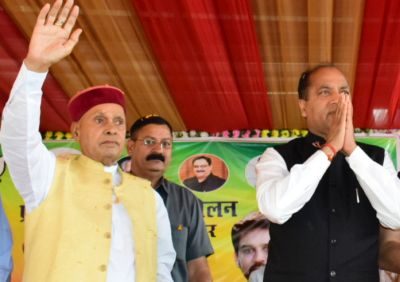 BJP Leader said that under the leadership of Prime Minister Narendra Modi, India today has emerged as a world power and declaration of Masood Azhar as an international terrorist by the United Nations, shows his commitment and authority. He said
"This is India's historic diplomatic victory for which Prime Minister Narendra Modi and Union Foreign Minister Sushma Swaraj deserves appreciation. Even the powerful nation like China also had to bow down In front of Narendra Modi's diplomacy and as a result of pressure from India, China had to declare Masood Azhar as an international terrorist. However, it is surprising that while the whole world is congratulating India for this achievement, the Congress leaders are raising questions on this success as well."
The Chief Minister said that a bright and strong India is being built under the leadership of Prime Minister Narendra Modi and India is judged as one of the strongest countries in the world. The Modi Government has launched historical schemes for the welfare of people, which has benefited millions of families. As a result of this, the people of the country have decided to support Narendra Modi as the Prime Minister again, he further added.
Jai Ram Thakur urged the people to give historic edge to BJP candidate Anurag Thakur from Hamirpur parliamentary constituency.