Shimla: The Election Commission of India (ECI) has significantly modernized its voter/citizen interface to accommodate a growing user-base. Chief Electoral Officer Devesh Kumar told here today that Election Commission continues to branch out into new technology areas and caters for massive information dissemination requirements for its 87.5 Crore electors during the General Elections.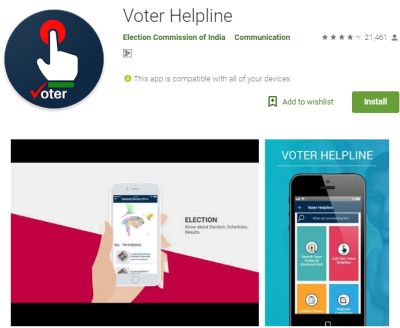 The Chief Electoral Officer said Election Commission's 'Voter Helpline' App has been upgraded to show the information about contesting candidates, based upon the information entered by Returning Officers (RO). By this advent in the voter helpline, the electors now will now be able to search candidate name, list of all candidates.
The application will have a special feature to filter based on parliamentary constituencies/assembly constituencies, phase, state constituency.
Devesh Kumar said the special filters on the 'Voter Helpline' would also help voters to read and download the affidavits and counter affidavits. The filters like accepted, rejected, withdrawn, and final contesting candidates will be available on application.
Devesh Kumar said that the Voter Helpline aims to provide a single point of service and information delivery to voters across the country. The Voter Helpline app provides facilities of Electoral Search (#GoVerify your name in the electoral roll), Submission of online forms for New Voter Registration, shifting to a different the constituency, for Overseas Voters, Deletion or Objection in the electoral roll, correction of entries & Transposition within Assembly.
The Voter Helpline app also facilitate electorate to Register Complaints related to Electoral Services and track its disposal status, FAQ on Voter, Elections, EVM, & Results and Service & Resources for Voters & Electoral Officers.
The upgraded mobile application is available for android phones which would soon be available on iOS versions as well.