Shimla: To ensure free and fair Lok Sabha Election 2019, the Election Commission of India has barred candidates and political parties to provide free transportation of the voters to and fro from the polling station on poll day.
Election Department of Himachal Pradesh spokesperson today said the hiring or procuring or use of vehicles by a candidate/his agent or by any other person with the consent of the candidate or his election agent for the free conveyance of the voters to and fro from the polling station on poll day would be considered a 'corrupt practice' under Section 123(5) of the Representation of the People Act, 1951.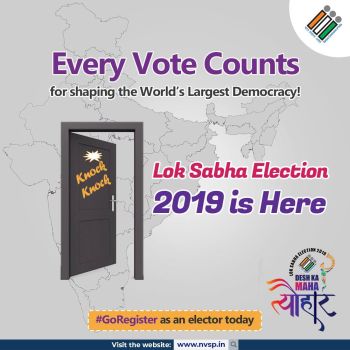 Any such matter reported or brought to the notice of Election Commission would be treated as an electoral offence, punishable under Section 133, with a fine, which may extend to five hundred rupees.
To curb such a practice, which is often seen, the Election Commission of India had issued necessary guidelines. Each contesting candidate on the day of poll will be entitled to one vehicle for his own use, one vehicle for his election agent and one vehicle for use of his workers in each of the assembly segments comprised in the Parliamentary Constituency, said the spokesperson.
He said that the permits for the vehicles being used by the candidates would be issued by the District Magistrate/Returning Officer. It is mandatory to display the permits on the wind-screen of the vehicles. Any vehicle being used in violation of these directions shall be confiscated added spokesperson. Directions have been issued to District Election Officers to ensure that expenditure incurred on vehicles is proportionately distributed amongst the expenditure of the contesting candidates of the party in the areas/constituencies where such vehicles are used. It is further clarified that the permission to use Video-Vans for campaign purpose can be granted at Chief Electoral Officer (CEO) level only. Any party/candidate seeking permission to use Video-Vans from CEO should first obtain necessary permission/no objection certificate from the Competent Authority under the Motor Vehicle Act.
To avoid inconvenience to the general public/ commuters during road shows, prior permission for road shows would be taken from the competent authority. As far as possible, road shows, subject to court orders and local laws, should be permitted only on holidays and during non-peak hours, on routes other than those having big hospitals, trauma centers, blood banks and heavily crowded markets, added the spokesperson.
He said that for use of road transport by star campaigners, under clause (a) of explanation given under Section 77 (1) of the Representation of the People Act, 1951, the permit would be issued against the name of the concerned person by the CEO. If the vehicle so permitted is occupied by any other person (other than the leader), in that case, the 50% expenditure of the same shall be booked in the expenditure of concerned party candidate from that constituency.