Hamirpur: Chief Minister Jai Ram Thakur said that BJP's candidate from Hamirpur parliamentary constituency Anurag Thakur will register fourth win this time. The Chief Minister was addressing a public gathering held at Hamirpur after filling of nomination papers by BJP candidate Anurag Thakur.
The Chief Minister said that the Modi Government has done commendable work for a strong and developed India. Targeting Congress, CM said
"In the past, the Congress government at the Center did not pay attention to the desired development rather it made new records of scandals. Now, the people of the country have decided that the country needs a government that work for development. He said that the country's glory has increased under the leadership of Prime Minister Narendra Modi and India is counted as one of the strongest countries in the world"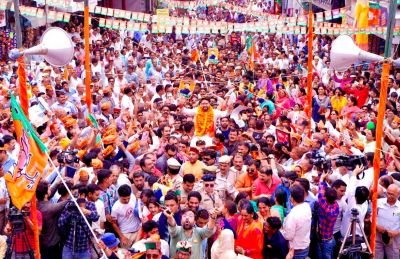 Jai Ram Thakur said that the pace of development of the country should not stop for which BJP needs to be voted to power again. He said that BJP is getting huge support and it is certain that the party will emerge victorious in Lok Sabha elections.
Jai Ram Thakur said that Anurag Thakur has also done commendable work as MP for development of Hamirpur parliamentary constituency, which should continue even further so that this area continue to march ahead on the path of development. He urged the people to support Anurag Thakur and ensure his victory this time with huge margin.
Cabinet Minister Mahender Singh Thakur, Virender Kanwar and Vikram Singh Thakur, former Chief Ministers Shanta Kumar and Prem Kumar Dhumal, BJP State President Satpal Singh Satti, BJP senior leaders Tirath Singh Rawat were also present on this occasion.