CPM terms budget a desperate bid to prevent the sinking ship of NDA
Shimla: Himachal Pradesh Chief Minister Jai Ram Thakur has hailed the interim budget 2019-20 and termed it historic. CM claimed that the budget meeting the expectations of all sections of the society and would set the developmental agenda for the country for the years to come.
Thakur said the budget would ensure the nation on the path of progress and prosperity. He said various major announcements have been made for farmers, poor, women, students, businessmen and middle class. The Chief Minister also welcomed increased slab Income slab.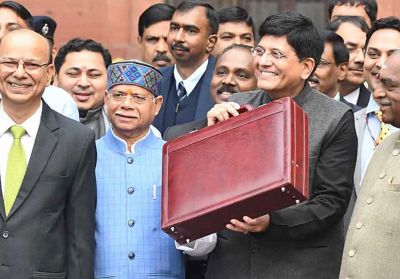 Jai Ram Thakur said a record allocation of funds at Rs 58,166 crore has been made for North Eastern areas and higher budgetary allocations for education, health, infrastructure and for the welfare of weaker sections including scheduled castes and scheduled tribes.
The Chief Minister said that the new scheme "Pradhan Mantri Kisan Samman Nidhi (PM-KISAN)" has been announced to extend direct income support at the rate of Rs. 6,000 per year to farmer families, having cultivable land up to 2 hectares. Setting up of "Rashtriya Kamdhenu Aayog" to upscale sustainable genetic upgradation of cow resources and to enhance production and productivity of cows is also a welcome step.
Congress veteran and former Chief Minister has termed interim budget a poll budget. Virbhadra Singh rued that the budget has nothing for hill states like Himachal.
The state congress President Kuldeep Singh Rathore stated that the interim budget will be a final Jumla aiming for the forthcoming Lok Sabha Elections. Thakur stated that Rs 6,000 annual guaranteed income is a mockery of farmer which is just Rs 17 per day.
The CPM has also rejected the interim budget and termed it an attempts to prevent the sinking ship of NDA in parliamentary election. CPM leader said that finance minister has presented interim budget with full of promises, but desisted to explain the sources of funds.