Baddi: Introducing management students with corporate working and usages of Microsoft Excel Practices, the School of Management Studies, Baddi University of Emerging Sciences and Technology organizes three days long workshop on 'Microsoft Excel Practices for Corporate.'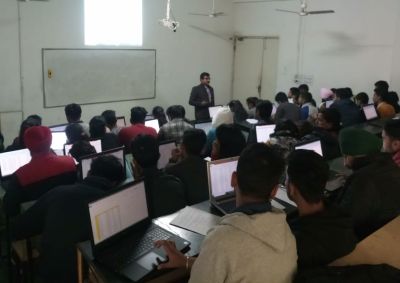 Dr Amit Srivastava, Associate Professor, Jaypee University of Information Technology, holding 16 years of rich experience in academics, uphold the session and shared his rich experience and expertise with budding management trainees.
The workshop ran on DIY (Do It Yourself) basis. During the session, Dr. Srivastava introduced the basic concepts of Microsoft Excel, workbook and worksheet. Students further practiced excel formulas, pivot tables, chart framing, data analysis, validation, Macro application, statistical analysis with excel and many more components about Microsoft excel.
Dr Amit Srivastava advised students to give extra attention to practical aspects of the technology and use it in frequently to master it, which will help them during their professional duties. He said that the technology has completely taken over corporate working and Microsoft is an essential programme, which is being extensively used worldwide. Elaborating the usages of excel, Dr Srivastava stated that the knowledge of MS Excel is vital in most of the organisations as it ensure proficiency. Microsoft Excel
Prof. Abhishek Raizada, Dean School of Management, Baddi University thanked Dr. Amit Srivastava. He said that the session was very fruitful and full of learning for students that will help them to excel in corporate world. Many businesses, personal and institutional enterprises have embraced the use of Excel because of its utility and the ability to serve as a visual basic for different applications, Prof. Raizada said and further advised students to practice hard to excel the excel.