New Delhi: The Minister of Human Resource Development, Prakash Javadekar today launched Operation Digital Board to leverage technology in order to boost quality education in the country.
The Minister said that Operation Digital Board is a revolutionary step which will make the learning as well as the teaching process interactive and popularize flipped learning as a pedagogical approach.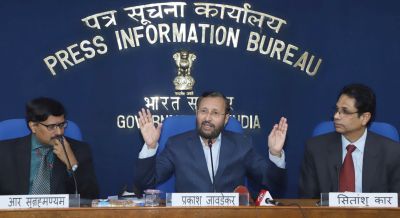 Prakash Javadekar disclosed that the digital board will be introduced all over the country in government and government aided schools from class 9th onwards as well as in higher education institutions. The process will begin from the coming session of 2019 itself, the Minister explained. He further said that Operation Digital Board aims at converting a class room into a digital class room and in addition to availability of e-resources at any time and at any place to students, it will also help in provisioning of personalised adaptive learning as well as Intelligent Tutoring by exploiting emerging technologies like Machine Learning, Artificial Intelligence & Data Analytics.
Initially, 1.5 lakh schools will be covered under the scheme in collaboration with the State and UTs. An expert committee has worked out optimum configuration of the Digital Class Rooms under Operation Digital Board.
The Union Minister said that the biggest challenge facing education sector in the country is maintaining acceptable quality standards across the country. And the spread of educational technology and connectivity has given an opportunity to resolve this issue and aim at equity in educational standards, he further added.
Javadekar also stated that the launching of e-Pathshala, DIKSHA, NROER,NPTEL, e-pgpathshala SWAYAM and SWAYAM-Prabha DTH Channels etc. by MHRD have provided adequate content of high quality which can be taken to every classroom, and thereby facilitating blended learning and flip class learning. These pedagogical interventions can adequately raise the standards of teaching, irrespective of the location of the Schools and Colleges/Institutes. Such technology enabled learning can also inspire teachers across the country to raise their own standards of teaching.