Naina Devi/Bilaspur: Chief Minister Jai Ram Thakur inaugurated 5MW Berry Dol Solar Power Plant constructed near Shri Naina Devi Ji Shrine in Bilaspur district today.
The Berry Dol Solar Power Plant has been completed by spending an amount of Rs. 36.24 crore by the HP Power Corporation Ltd.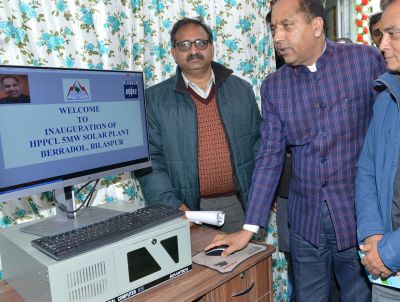 Speaking on the occasion, Chief Minister said that Berry Dol Solar Power project has been synchronised with HPSEB Ltd 33/11 KV network Kot and the power generated was being sold to HPSEB. He said that Berry Dol Solar Power Plant would generate 101 lakh unit electricity per annum and will earn revenue of Rs. 4.40 crore to the State exchequer.
Hailing the PM Modi for benevolent funding for the state, the Chief Minister said that many developmental projects worth crores of rupees were sanctioned for the State by the Centre Government.
The Chief Minister said that the present State government was laying special attention on development. He said that several schemes have been launched to ensure socio-economic upliftment of the poor and downtrodden. He said that the one year of the present government has been dedicated towards betterment of the State. Even the Prime Minister, has appreciated the efforts of the State government during the one year completion function held at Dharamshala.