Policy to formulate to regularize the services of Jal Rakshak completing 12 years of services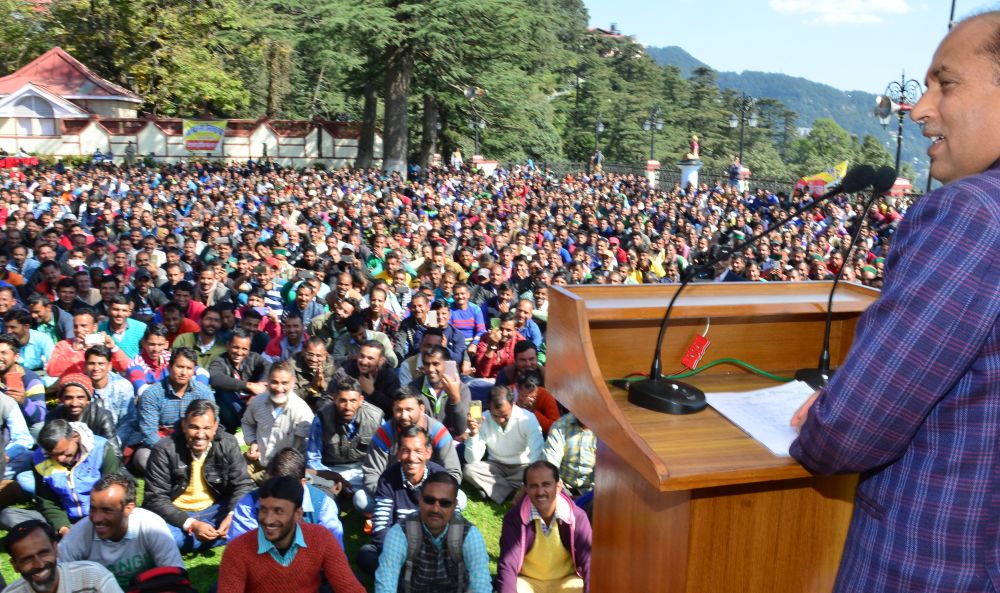 Shimla: To redress the demands of around 6300 Jal Rakshak (Water Guards) working in the Panchayati Raj department since year 2006, the state government has decided to formulate an appropriate policy.
The Chief Minister, Jai Ram Thakur, in a function of Jal Rakshak Sangh at Shimla today, said that government was very considerate about their demands and problems and every effort would be made to enhance their honorarium and give other benefits.
Thakur accepted that the Jal Rakshaks have been serving with great responsibility in the rural areas but they were not getting honorarium as per their hard work. And by raising honorarium of Jal Rakshak by Rs. 400 in the budget, the state government has shown concern towards their welfare, the CM further added.
Jai Ram Thakur assured the Jal Rakshaks that the demands of the Jal Rakshaks including regularisation of those completing twelve years of service would be considered sympathetically and a proper policy would be prepared which would be presented in the coming budget session of Vidhan Sabha.
Irrigation and Public Health Minister Mahender Singh Thakur said the government would consider giving more responsibility to Jal Rakshaks in implementation of the schemes of the department.
The Chief Minister also held a meeting with the representatives of the Jal Rakshak Union. Irrigation and Public Health Minister Mahender Singh, Additional Chief Secretary, Finance Anil Khachi, Secretary IPH Devesh Kumar and Secretary, Rural Development and Panchayati Raj Dr. R.N Batta and other senior officers of the IPH and Panchayati Raj department were also present in the meeting.
The Chief Minister directed the officers concerned to examine the demands and take necessary action so that the best possible respite could be given to the Jal Rakshaks keeping in view the valuable services they were rendering.