Accusations of involvement of lawmakers in corruption and criminal activities isn't new. Every now and then reports of lawmakers' involvement in serious crimes making headline. In a recent report of Association for Democratic Reforms (ADR) and the National Election Watch 64 sitting MPs and MLAs have declared cases of kidnapping and abduction against themselves.
As per analysis, out of the 4,856 sitting MPs and MLAs, including 770 MPs and 4086 MLAs, who were analysed, 1024 lawmakers have declared serious criminal charges against themselves in their affidavits, and 64 lawmakers have cases of kidnapping against them.
The list shows that 16 are from the BJP while six each are from the Congress and the RJD. NCP has 5 lawmakers, BJD and DMK have 4 each SP and TDP have 3 each and 2 each from the TMC, CPM, CPI-ML and Shiv Sena. The Lok Janashakti Party, JD-U, TRS, Bhartiya Tribal Party and Nirbal Indian Shishit Hamara Aam Dal have one each lawmakers in the list besides four Independents are also on the list.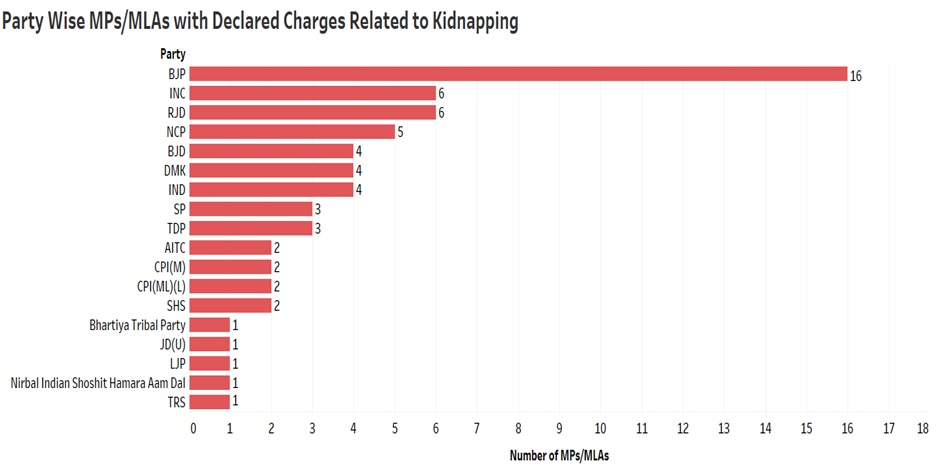 Out of MLAs with declared charges related to kidnapping, the highest number of MLAs i.e. 9 each are from Bihar and Uttar Pradesh. Maharashtra has 8 legislatures in the list and six legislatures are from West Bengal are listed in the report. Orisa and Tamil Nadu have 4 each, while three each legislatures from the Andhra Pradesh, the Gujarat and the Rajasthan have declared charges against them in the election affidavit.
Himachal Pradesh has also a sitting legislature with declared charges.
The findings were released recently by the Association for Democratic Reforms (ADR, an NGO that works for electoral and political reforms. The report analysed the affidavits on the basis of 13 sections of the Indian Penal Code (IPC), including Section 362 (abduction), Section 364 (kidnapping with an intention to murder) and Section 367 (kidnapping, abducting in order to subject person to grievous hurt or slavery), among others. The IPC sections differentiate between abduction and kidnapping, with the former having been committed against a minor while the latter doesn't have an age criterion.