Aiming to set agenda for 2019 parliamentary election, the Indian Political Action Committee (I-PAC) has launched National Agenda Forum (NAF). I-PAC, which was behind the Citizens for Accountable Governance (CAG) in 2013 and successfully christened innovative campaign of Narender Modi for the PM post in 2014 parliamentary election and thereafter Bihar assembly election for Nitish Kumar, terming Forum as a tribute to Mahatma Gandhi on his 150th birth anniversary year, aims to formulate an actionable agenda for 2019 Lok Sabha elections.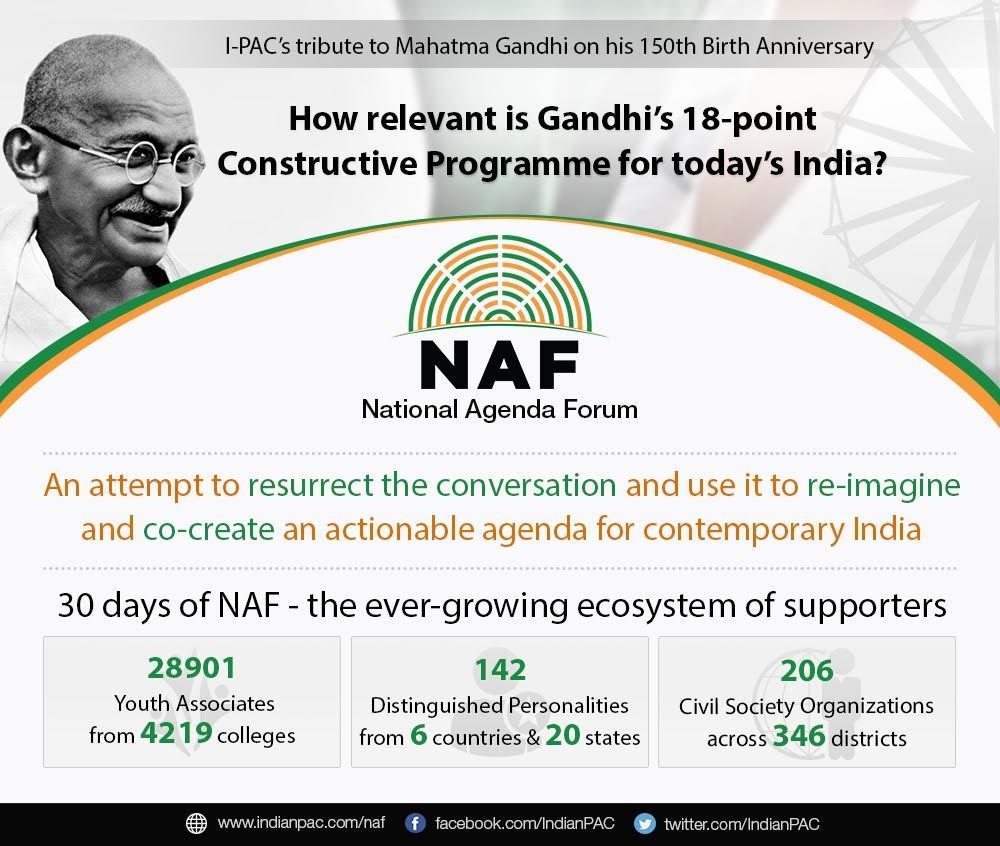 NAF is a pan-India initiative to resurrect the conversation around Gandhiji's 18-point Constructive Programme and use it to re-imagine and co-create India's priorities to formulate an actionable agenda for contemporary India. And within 30 days of its launch, the NAF has started getting response and enjoying improving support from all across the country. So far 28,901 youth associates, 142 distinguished personalities and 206 civil society organizations have joined our ever-growing NAF.
I-PAC claiming of support of a diverse group of people and organizations, importantly Gandhians, such as, Prof. Ramjee Singh (Freedom fighter and a pioneer in study of Gandhian thought in India), Dr. Ravindra Kumar (Padma Shri Awardee, Sardar Patel National Awardee), Natwar Thakkar (Padma Shri awardee, Jamnalal Bajaj awardee), Dr. D Chelladurai (Dean, Gandhi Research Foundation), Baji Mohammad (Freedom fighter). Gandhian organizations, such as, Gandhi Smarak Nidhi, Sarvodaya Ashram, Gandhi Mission International Society of India, etc. Recipients of civilian honors, such as, Shrimati Teejan Bai (Artist, Padma Bhushan awardee), Rajan Mishra (Indian classical singer, Padma Bhushan awardee), Dr. Brahm Dutt (Padma Shri Awardee for working for lepers), Dr. Usha Kiran Khan (Padma Shri awardee and Sahitya Academy Award winner), etc. Eminent public servants, such as, Ranjit Shekhar Mooshahary (Ex-Governor of Meghalaya), Justice N.N Mathur (Former Judge, Rajasthan and Gujarat High Courts). Sports personalities, such as, Mary Kom (Boxer, Olympic Medalist), Babita Phogat (Wrestler, Commonwealth Games Medalist), IM Vijayan (Former Captain, Indian Football Team), Ishwwar Pandey (Cricketer), etc. and forum also boosting support from entertainment personalities such as Piyush Mishra (Actor, Screenwriter, Lyricist), Shyam Rangeela (Mimicry Artist), Pammi Bai (Singer, Songwriter, and Bhangra Dancer), etc.
Over the next couple of weeks, I-PAC plans to reach out to students in 750 colleges and 320 civil society organizations across 21 states, during our field visits.