Shimla: Himachal Pradesh Council for Science, Technology and Environment today organized a Conference on 'Artificial Intelligence: Potential Applications in Himachal Pradesh'. The Chief Minister, while addressing conference, ensured Artificial Intelligence's optimum use for effective, transparent, responsive and good governance to the people.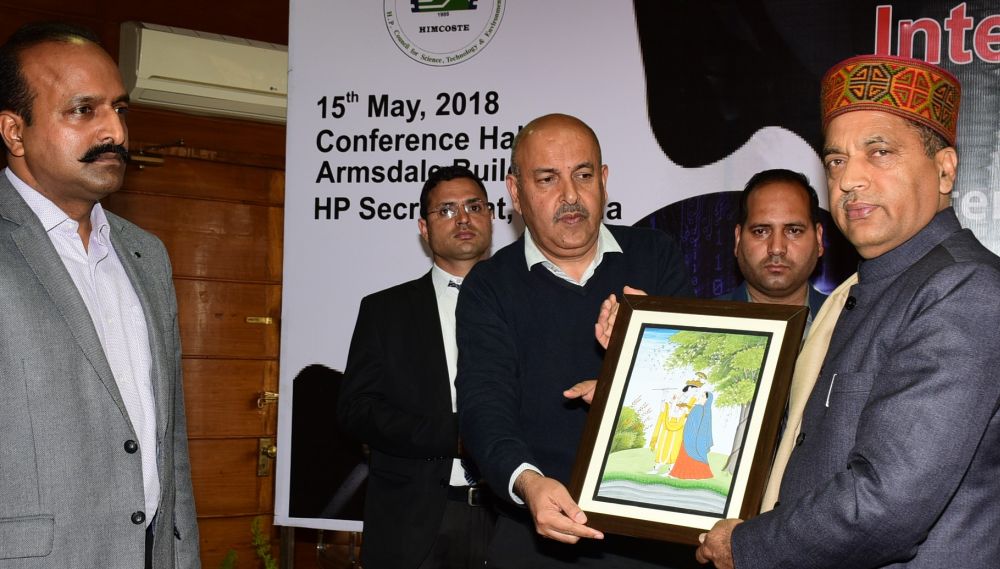 Jai Ram Thakur said the Artificial Intelligence has tremendous economic potential and it can play a vital role in improving quality of life. Thakur said that Artificial Intelligence can be helpful in checking illegal constructions and also in forest mapping to check illegal forest felling, besides an effective tool for ensuring effective and accountable administration. The CM said that the illegal mining was another area which could be checked by optimum use of artificial intelligence, and further added that Artificial Intelligence could also help in monitoring of ongoing developmental projects.
He said that the State Government would ensure maximum use of Artificial Intelligence and technology for providing better governance and transparent administration. This technology would be used for monitoring of ongoing developmental projects to ensure their timely completion.
The Chief Minister said that numerous companies in India, particularly e-commerce businesses as well as many start-ups were beginning to exploit Artificial Intelligence. The most important challenge was to collect, validate, standardize, correlate, archive and distribute AI-relevant data and making it accessible to organizations, people and systems without compromising privacy and ethics.
He hoped that the Conference would open new dimensions of AI applications for people of the State.
Minister of Health, Science and Technology Vipin Singh Parmar said that Artificial Intelligence was emerging as a technique for better knowledge and learning and this could help in better results for a better tomorrow. He said that in the coming times artificial intelligence was emerging as a key player particularly in banking, health, communication and allied sectors.
Additional Chief Secretary, Science, Technology and Environment and Chairperson HIMCOSTE Tarun Kapoor said that the Artificial intelligence would be the largest creator of jobs in the next few years. He said Himachal Pradesh had a major role to play due to its young educated population.
Chairperson, Department of Computer Science and Engineering IIT Madras and Chairperson Artificial Intelligence Task Force Prof V. Kamakoti said that the AI was poised towards economic transformation in the next few years. He said that all the systems in the machine that make intelligent decisions could be called Artificial Intelligence. He said that the Digital India was providing a big opportunity for further promoting AI. Every project sanctioned by the Government could be geo-tagged and review and monitor the projects themselves. This can give a sense of participation in the government projects, he added.
He said that in the next five years advisory solutions, health care, IT Services, BPO etc could emerge as major job creator due to use of AI in these areas.
Director, CSIR Institute of Genomics and Integrative Biology, New Delhi Dr Anurag Aggarwal gave a detailed presentation on AI and human intelligence. He said that Intelligent Infrastructure and AI can handle most of the definable tasks in governance. He said that AI can also play a key role in field of medicine since medical knowledge was expanding with the expansion of Artificial Intelligence.
Additional Chief Secretaries BK Aggarwal and Anil Khachi, Principal Secretaries R.D. Dhiman, Prabodh Saxena and Onkar Sharma, Secretaries Arun Sharma and Purnima Chauhan and other senior officers were present on the occasion among others.