Himachal Pradesh Chief Minister hold a review meeting of State Public Works Department today and asked for regular monitoring and inspection of roads and bridges constructed particularly under NABARD, Central Road Fund etc. must be ensured so that quality work could be done.
Chief Minister Jai Ram Thakur said that to ensure quality work, standard quality parameters should be laid down. He said that the responsibility of the defaulters must be fixed and strict action taken against the person.
The Chief Minister advised to carry out civil and electrical works simultaneously for ensuring timely completion of projects. He said that laxity of any kind would not be tolerated and strict action would be taken against the defaulters.
Thakur, who is also holding PWD, asked to complete all formalities regarding allocation of road and bridge projects within a stipulated time period so that the works could be allocated within 51 days to concerned executing agencies.
He asked department to ensure e-tendering for speeding up the process of allocation of projects. This would not only ensure transparency in allotment of projects, but also expedite process on awarding the works, he further added.
For speedy clearance from Forests department, the Chief Minister asked for proper coordination between Public Works, Revenue and Forests Departments. He said that it has been felt that delay in Forest clearances was one of the major bottlenecks for starting of different road and bridge projects. He said the Government would also take up the matter with the Union Government to expedite forest clearances so that road connectivity to left out habitations and villages could be ensured.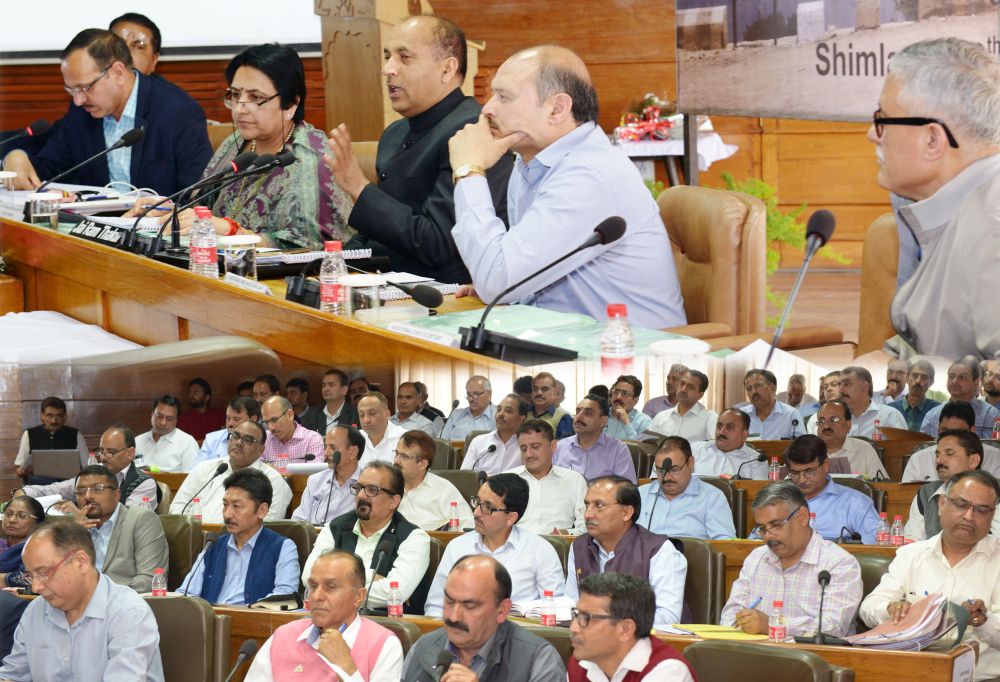 State to construct 600 kms motorable roads
The Chief Minister said the State government has setup a target of construction of 600 kms new motorable roads, providing cross drainage facilities on 750 kms road length, metalling and tarring of 1100 kms roads, construction of 35 bridges and providing road connectivity to 40 villages during the current financial year.
Jai Ram Thakur said that work should be expedited on ongoing projects under PMGSY as this was the major scheme that has ensured road connectivity to the villages in the country. He said that target has been fixed to execute 414 works with a total length of 2400 kms, under PMGSY with an outlay of Rs 600 crore during the current financial year. He said that on completion, 150 habitations would be connected with roads. Similarly, target has been fixed to complete 209 works under Rural Infrastructure Development Fund (RIDF)-NABARD, which include 77 works in Shimla zone, 20 in Mandi Zone, 70 in Kangra zone and 4 in Hamirpur Zone.
Chief Minister asked the officers of Public Works Department to identify black spots during the construction of roads so that possibility of road accidents could be minimized. He said that out of 90 black spots identified in the State, 58 had been rectified and work on remaining black spots was in progress.
He said that out of the 69 new National Highways of total length of 4312 kms, letter of acceptance has been issued in respect of 53 National Highways and tender based estimates regarding five national highways has been sent to Union Ministry of Road, Transport and Highways.
Jai Ram Thakur said that State Government has allocated Rs. 200 crore for maintenance and repair of roads in the State besides Rs. 50 crore additionality for providing drainage facilities on the roads. He directed the officers of the department to ensure time bound completion of metalling, tarring works keeping in view the limited working season for the same.
Additional Chief Secretary Manisha Nanda, Additional Chief Secretary and Principal Secretary to the Chief Minister Dr Shrikant Baldi, Engineer-in-Chief R.P Verma, Chief Engineers, Superintending Engineers, Executive Engineers and other officers of the Public Works Department attended the meeting.