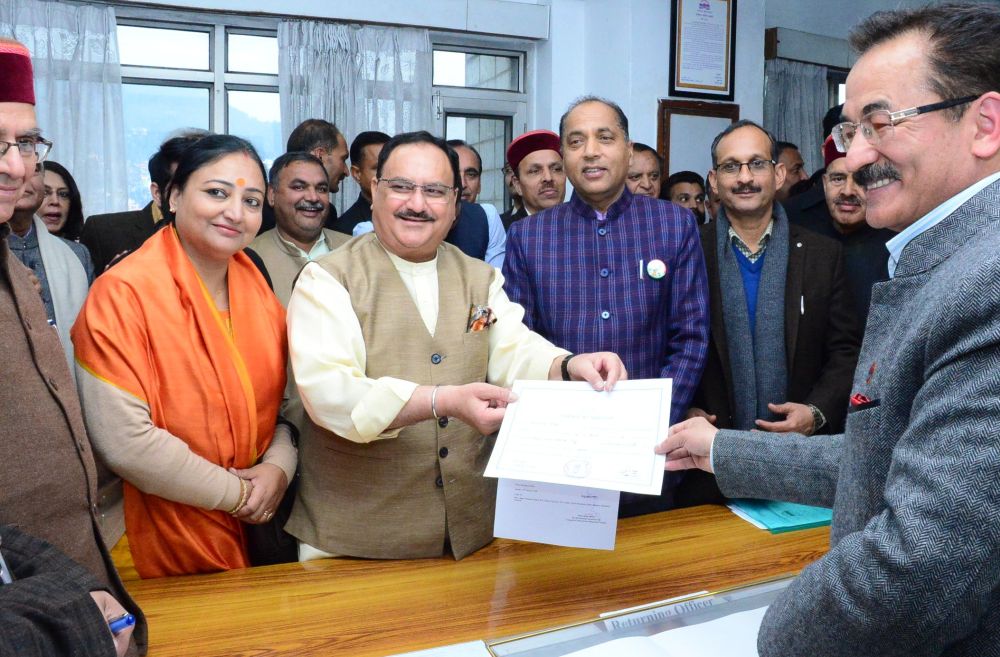 Shimla: Union Health and Family Welfare Minister JP Nadda was today re-elected unopposed for Rajya Sabha for the second term from Himachal Pradesh. He received the certificate of nomination from Electoral Returning Officer at HP Vidhan Sabha in the presence of Chief Minister Jai Ram Thakur.
The Congress Party had taken a decision not to field its candidate against Nadda.
Nadda was elected unopposed to the Rajya Sabha in May 2012 for his first term. He was BJP's national general secretary. He was later inducted as a cabinet minister. JP Nadda first elected to the HP Vidhan Sabha in 1993, during his first term, he served as the Leader of his party group, from 1994 to 1998. He was reelected to the state assembly in 1998 and was made Minister of Health and Family Welfare and Parliamentary Affairs.
JP Nadda was elected for another term in the 2007 elections. After Prem Kumar Dhumal formed a government, he inducted Nadda in his cabinet, as cabinet minister responsible for Forest, Environment, Science and Technology, from 2008 to 2010. Nadda did not seek re-election to the Legislative Assembly in 2012, and instead got elected to Rajya Sabha. In 2014, during a cabinet reshuffle, Prime Minister Narendra Modi made him, the Minister of Health.
During the Himachal Elections 2017, his name had also cropped -up for the Chief Ministerial post but Prime Minister Narendra Modi and President Amit Shah did not favour his return to the state.