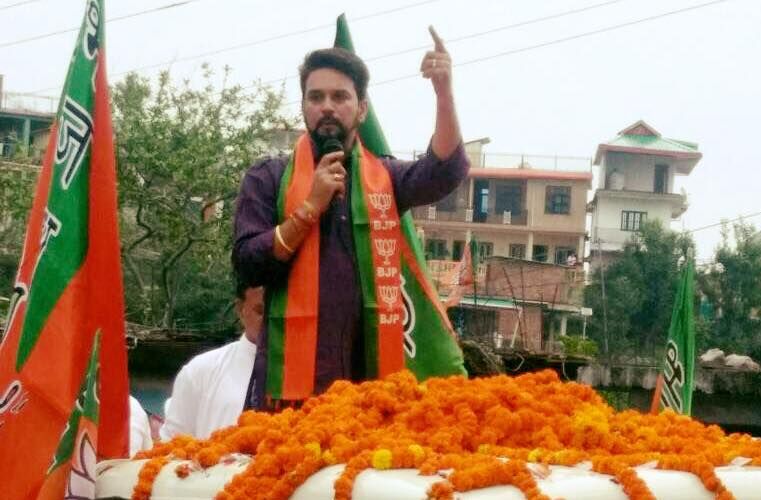 Hamirpur BJP parliamentarian Anurag Thakur has accused the Himachal Pradesh government of having disinterested and indifferent attitude towards the development of the state.
Member of Parliament alleged that this was once again established with no work done in providing land for opening new central schools in the state. Thakur stated
"As a Member of Parliament, I have received several requests from MLA's and residents for opening of Central Schools. I took this matter with the Ministry of Human Resource Development and they looked into the same and sanctioned schools in Sandhole, Mandi District and Saloha, Una district. I further received demand for Central School in Sri Naina Devi Ji, Amb, district Una and Jaswan-Kotla Tehsil of Jaswan-Pragpur from the MLA's and local residents. For the same, I approached the Ministry of Human Resource Development and they suggested that the proposal for the same needs to be moved by respective Deputy Commissioners of the districts as it is the State Government that has to provide the land for the school. Likewise, I have connected with DC's of all three districts. So far I have received a response from DC Una who suggested that he cannot give and undertaking as he needs permission from State Government and for the same has written to Principle Secretary Education. I also wrote to the Secretary Education for the same, however, there has been no response so far. Therefore, now I have a written to Chief Secretary of the State to intervene and give undertaking for progressing the matter."
Blaming the Congress led state government for showing dillydally tactics, Thakur reminded government that it's only hampering the development of the state. He alleged that such things only showcasing the Government's disinterested and indifferent attitude towards development of the State. Targeting Chief Minister Virbhadra Singh, Anurag Thakur said
"I won't be surprised to learn that Chief Minister might have instructed the DC's to delay development work, particularly of my Constituency."
Veteran Congress leader and state Chief Minister claiming making significant progress of providing education by opening and upgrading schools at most possible places. After returning to the helm in the state, Singh had even opened the schools closed by his predecessor for lacking students' strength.
Bitterness between Anurag Thakur and state chief Minister Virbhadra Singh is an open secret and both never forget to target each other in any public meeting. Virbhadra Singh led Congress campaign in 2012 assembly election had charged Prem Kumar Dhumal, his son and BJP for compromising the interest of the state and given slogan like 'Himachal on Sale' and even succeeded to overthrown the BJP from the state. Congress had claimed of scams in Thakur led state Cricket body HPCA and even initiated enquiry and filed few cases against the Cricket Body and its representatives, but till now none had reached to any conclusion. The state of Himachal Pradesh is slated to go into poll later this year, and BJP has made significant political progress by successfully targeting Veteran Congress leader and putting pressure on the state Congress.