Shimla: Chief Minister Jai Ram Thakur assured to provide all basic facilities to entrepreneurs in the State and make efforts to attract more investments by easing the single window clearances to ensure that the state improves its ranking for ease of doing business.
The Chief Minister, while addressing the Himachal Pradesh State Annual Session 2017-18, organized by Confederation of Indian Industries (CII) Himachal Chapter, late Thursday evening at Hotel Holiday Home, Shimla, with a mission for reviving investments which would go a long way in growth and sustenance of industry in the State beyond 2020, said that Himachal Pradesh has vast potential for employment and entrepreneurship in thrust sectors of hydro, tourism and horticulture. The government intends to ease complexities being faced by hydro industry. He said Tourism potential of the state will be fully exploited to make Himachal a favourite tourist destination in real term. All the hurdles will be removed in way of investment in these sectors.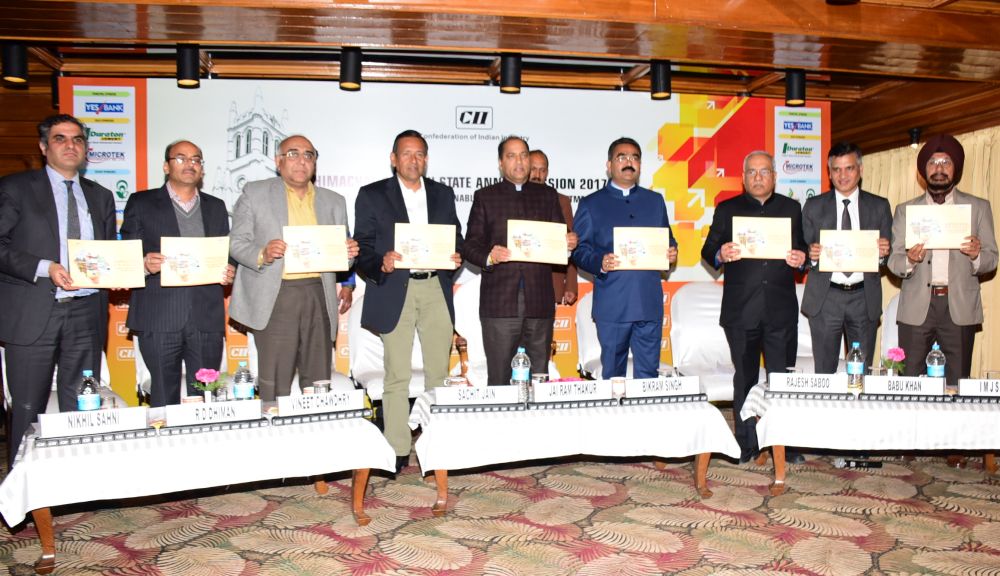 The state government is endeavouring to create more job opportunities and providing skills to the unemployed for making them employable as per the demand of the Industries.
He said that the government intends to create a conducive atmosphere with adequate support system for nurturing entrepreneurship and encouraging the youth to become a 'job creator instead of job seeker'.
Thakur lauded the efforts of CII for running various capacity building programmes on soft skills, Human Resource management etc. adding that CII had been a strong Institute for learning by sharing of expertise, across the country.
He said at present Himachal Pradesh was ranked 17th in the country, in ease of doing business and Himachal has vast potential for industrial revolution amongst Hill states. He said it is a fact that the incentive policy was not so attractive and needed to be a revised for extraordinary growth in Industrial sector.
He said though industrial package was over, still the government will create new opportunities in this sector and achieve better results.
The Chief Minister appreciated the efforts of Union Government for simplifying procedures for industries. He said that State Government would endeavour to follow these directions for facilitating the entrepreneurs so that further employment opportunities could be created along-with accelerating the pace of industrialisation in the state.
The objective of the State Government was to generate more employment avenues to the youth as well as to develop a viable economy, which he said could be achieved by ensuring maximum investment and creating congenial atmosphere for doing business with ease adding that private sector could play a vital role in this direction. Jai Ram Thakur said
"I have experienced that those who want to invest in Hydel generation were facing lots of hurdles and were finding difficulty in getting clearances. The enthusiasm with which they invested in hydro sector was now at the lowest ebb and we would try to remove all the impediments in their way"
The Chief Minister said that State Government would provide transparent, entrepreneur friendly and responsive governance to investors. He also sought their suggestions for easing the norms for setting up of industrial units which could provide more employment opportunities to the people of the State.
He said the state government would sympathetically consider to provide competitive power tariff vis-à-vis neighbouring states. The Chief Minister also assured optimising regulatory framework with defined guidelines for timely clearances and integrating various departments with Single Window Clearance System.
The Chief Minister also released the report 'Himachal Pradesh Industry Beyond 2020, The Road Ahead' on the occasion.
Industries Minister Bikram Singh said that the government was alive to the issues of the entrepreneurs and the grievances were being taken up with the Chief Minister for redressal. He said the government was committed to provide a good infrastructure in the state. He said that the state had a very congenial atmosphere as compared to neighbouring states, adding that the government would certainly ponder upon the suggestions by the entrepreneurs.
Deputy Chairman, CII Northern Region Sachin Jain said that under new areas of competitive federalism, it becomes imperative to work together to re-strategise and revise the policies so as to create an attractive business ecosystem for investment to come and industry to grow and flourish.
He stressed for high-end tourism and hydro industry in the state and said that CII was ever ready for promoting and co-operating the state for growth of Industries. He said that the state should aim to be in the top five states for ease of doing business. He also urged not to escalate the power tariff for at least five years.
Chief Secretary Vineet Chaudhwary, ACS Industries RD Dhiman, ACS Smt. Manisha Nanda, Director Deloitte Touché Touhmatsu India Shumbham Gupta, Group President Government Banking and National Head YES Bank Nikhil Sahni were also present on the occasion amongst others.