Chief Minister Jai Ram Thakur hoped to frame better policies for human resource in the growth of the State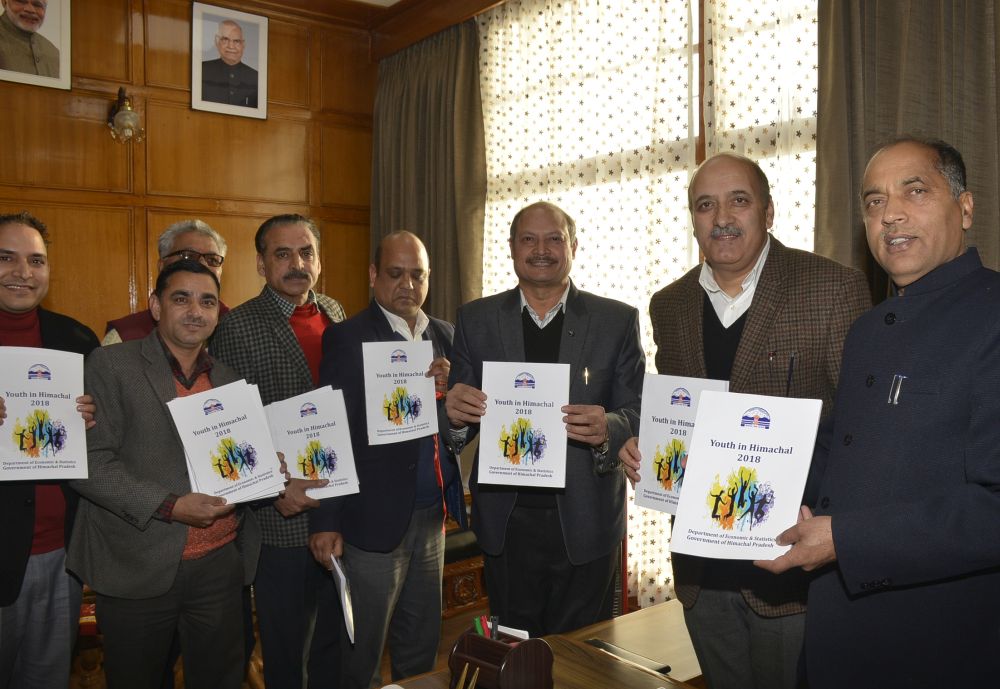 Shimla: Chief Minister of Himachal Pradesh Jai Ram Thakur, today released the document "Youth in Himachal Pradesh-2018", prepared by Economic and Statistics department.
On this occasion Dr. Shrikant Baldi Addl. Chief Secretary (Finance, Economic & Statistics), Pradeep Chauhan, Economic Adviser and other senior Officers of the department were present.
Chief Minister said the document will serve as a tool to frame policies for human resource in the growth of the State. It is the right time to reap demographic dividends and fulfil the aspiration of the youth in the State.
In Himachal Pradesh the share of youth population is 35.25% which is more than the national level of 34.80% which encourages to present all the relevant data for youth at one place for the first time.
The main observations of this publication are:
Government of India has formulated the National policy for skill Development and Entrepreneurship in 2015 to provide an umbrella framework to all skilling activities being carried out within the country, and to align these to common standards and link skilling with demand centres. On the same analogy Government of Himachal Pradesh has introduced the Skill Development Policy, 2016 to guide the reform and scaling up of skill development efforts in the State.
Himachal Pradesh has the relative advantage at present over other States in terms of distribution of youth population. As per Census, the total youth population increased from 10.56 lakh in 1971 to 24.20 lakh in 2011. The youth population has increased by 129 percent in 40 years period whereas the overall general population increased by 85 percent in the same period.
The sex ratio in youth population is consistently decreasing from 1991 onwards in India whereas in Himachal Pradesh situation is slightly different. In India it has come down to 939 in 2011 as compared to 961 in 1971 and in case of Himachal Pradesh the sex ratio stands at 972 female against per 1000 male in the age group of 15-34 age group.
The percentage share of currently married female in the age group 15-19 has come down to 9.02% showing a welcome shift in the level of married women in younger age groups. Mean age at effective marriage for females in Himachal Pradesh has come up to 23 years in 2015 as compared to 22.3 years for India.
Fertility in Himachal Pradesh is falling significantly and Total Fertility Rate (TFR) in urban areas has fallen below two children per woman. TFR has come down from 2.2 in 2005 to 1.7 in 2015. It is below by 0.4 points from the population-stabilizing "replacement level" of 2.1.
Literacy rate for the age group 15-34 year in Himachal Pradesh reached 95%, whereas it was 46.8% in the year 1971.
The Student enrolment in higher education is highest (79.32%) at Under Graduate level.
During 2011-12, about 54% of males and about 47% of females in rural areas were in the labour force (as per the usual principal status) whereas the corresponding percentages in urban areas were about 61.1% for males and about 21.1% for females.
The unemployment rate for males was about 1.8% and for females were about 1.8 % rural areas during 2011-12. In urban areas, unemployment rate from female was 11% compared to 2.1% for males.
The victims of rape cases in the most vulnerable group of 12 to 30 years has been reported as 77.7% of total police recorded rape cases.
Under skill development allowance scheme 1,85,326 persons were benefited with an amount of Rs. 156 crore.