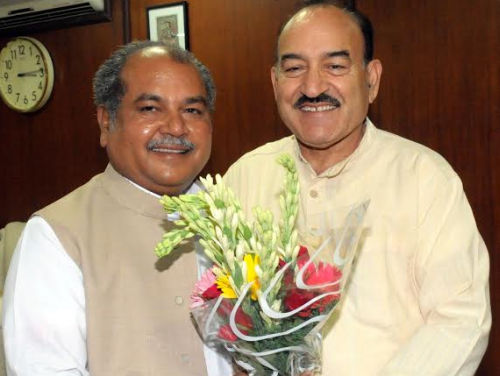 Shimla: Himachal Pradesh Health Minister Kaul Singh Thakur revealed to start the service of dedicated drop back ambulances called 102 for expecting mothers and children till the age of one year.
In a press conference, convened to detail out department's activities of past 18 months here today, Health Minister said that department will deploy 125 such vehicles at all the 116 delivery points in the State.
Minister added that under facility based new born care, 89 delivery points have been made functional with new born care corners. 13 Special Newborn Care Units (newborn ICUs) made functional at District Hospitals and both medical Colleges in State. 8 New Born Stabilization Units made functional.
While detailing out the achievements of his tenure, Kaul Singh said that he had managed to get many projects to the state from previous UPA led Union government and thanked then Union health Minister Gulab Nabi Azad for acceding many demands of the state.
Thakur stated that he had succeeded to get two hundred bedded Mother and Child hospital at KNH Shimla and Zonal Hospital Mandi and two Tertiary Care Cancer Hospitals at IGMC Shimla and Mandi.
He said that the GOI has also approved to establishment 3 Medical Colleges at Chamba, Hamirpur & Nahan with financial assistant of Rs. 189.00 crore each along with two nutritional rehabilitation Centers made functional at IGMC Shimla and Dr.RPGMC Tanda for treatment of malnourished children up to age of five years
Kaul Singh also revealed that the state government has started pilot project 'NPCDCS-TELESTROKE' for the management of Stroke. The project is started in collaboration with AIIMS New Delhi and aiming to establish 18 Primary Stroke Centers where CT Scan facility is available in H.P. For it Health Department has already trained 120 doctors and even six patients have also been thrombolysed.
Health Minister further added that the health department has organised 43 Multispecialty Surgical Camps (MSS), including nine in tribal region of the state. Total number of 3651 patients had been treated in these camps. For the year 2014-15, department has decided to carry out 40 MSS Camps in Rural Area and 10 MSS camps in Tribal Area.
Thakur further revealed that the department has deployed Mobile Diagnostics units in 10 districts.
Kaul Singh Thakur also reiterated his government vow to control drug menace in the state and claimed to have started de-addiction Centers in all the districts of the State, manned by Clinical Psychologist and Medical Social Worker. This has been started in partnership with the National Institute of Mental Health Neuro Sciences Bangalore, Minister added.
The state Health Minister further vowed to strengthen health services in the state and claimed to have begun new initiatives in health care. He said that the state government has sanctioned budget of Rs 29.59 Crores for 2014-15 for generic Medicines and decided to purchase 352 Essential Drugs through HPSCSC.
To discourage doctors to prescribe costly drugs in government hospitals, the state government has started Prescription Audit with duplicate carbonless OPD Slips, Thakur revealed.
Detailing out the achievements of the National Ambulance Services, Health Minister said that 172 Ambulances are rendering services in the state with 10 backup ambulances. Out of these, 29 Ambulances are dedicated for providing IFT (Inter Facility Transfer), which exclusively cater to referred patients from one hospital to another and placed at strategically located hospitals. Deployment of National Ambulance service is based on the geographical terrain and need based on the distance to be covered from nearest hospital.
Speaking on the Janani Shishu Suraksha Yojana (JSSK), Kaul Singh revealed that total 116 Matri Seva Kendra's (MSK's) have been identified in the State and 89 delivery points have functional Newborn Care Corners to take care of new born immediately after birth. He said that pregnant women were given free Caesarean section, free Treatment, free medicines, free diagnostic, free diet, free IFT and free drop back.