Tattapani/Mandi: Chief Minister Jai Ram Thakur declared the Maha Makarsankranti fair, Tattapani as district level festival. The Chief Minister, while addressing a public meeting at Tattapani, said the government is committed to promote religious tourism at Tattapani and to restore its lost glory.
The matter regarding restoration of springs and 'Bathing Ghats 'would soon be taken up both with National Thermal Power Corporation (NTPC) and Sutlej Jal Vidyut Nigam limited (SJVNL) to soon prepare the detailed report of the project and undertake the restoration work soon, the Chief Minister further added.
Jai Ram Thakur said the Makarsankranti festival was celebrated with great zeal and enthusiasm at Tattapani. Recollecting old memories, he said that he used to come for a holy dip way back when the sulphur springs were just adjacent to the banks of the river Sutlej and this festival was of great importance to the people of Tattapani and adjoining areas.
The Chief Minister said that there was lot of scope for religious and adventure tourism in the state and every measure will be taken to restore the lost glory of Tattapani.
He announced to develop religious places as Mahu Nag, Kamru Nag, Shikari Devi, Rewalsar from religious point of view to promote tourism and the matter would be raised with the centre Government.
The Chief Minister directed the SJVNL for developing a ground near and around Tattapani. He directed to prepare detailed Project report of Karsog by-pas as soon as possible. The Chief Minister also directed to prepare DPR for a road to Maanju, and announced a sum of Rs.10 lakh to begin with initially.
Earlier, the Chief Minister took sulphur bath in a pool at Hotel Hot springs and later unveiled the statue of Lord 'Shani Dev' near Lakshmi Narayan Temple and congratulated the people on occasion of Makarsankranti. He also paid obeisance at Narsing and Lakshmi Narayan Temple at Tattapani.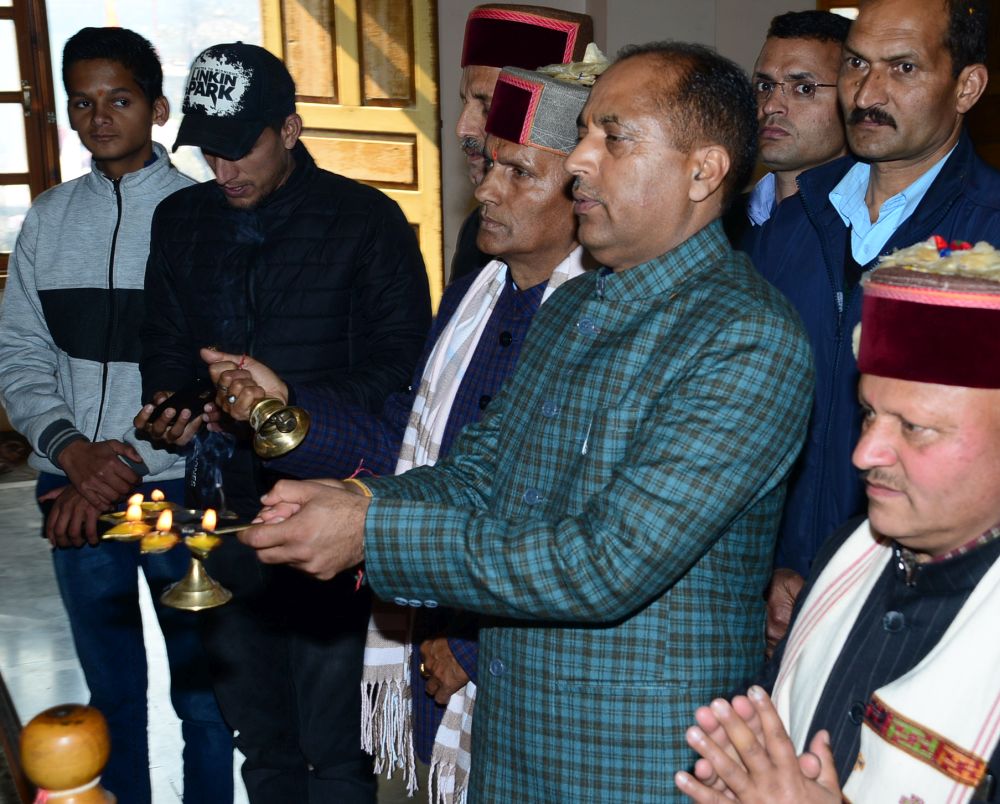 Makar-Sankranti at Tattapani
Makar-Sankranti is celebrated every year at Tattapani on the banks of river Sutlej, (now a reservoir, Kol Dam), with great fervour, enthusiasm and gaiety from times immemorial wherein people from far off corners come to take a holy dip in hot water springs. However, after the reservoir submerged the hot water springs the state government had restored few by drilling at Tattapani keeping in the view the unwavering faith of the people for a holy dip on several occasions.