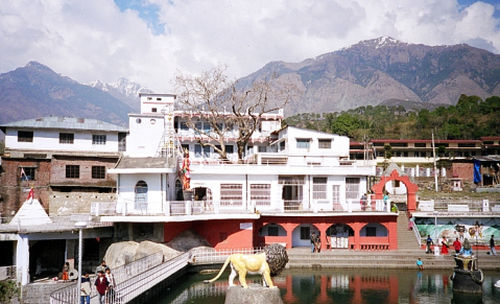 Chamunda Devi temple is a famous shrine in the Kangra district of Himachal Pradesh. It is 10 km west of Palampur, 15 km from Dharamsala and is situated on the bank of the Baner River. Dedicated to Devi Durga or Chamunda Mata, the holy shrine is devoted to the fierce form of the goddess. The temple's idol is considered to be so sacred that it is completely hidden beneath a red cloth.
The temple gets its name by combining two words Chanda and Munda. According to legends they were two demons whom the goddess killed and hence got the name Chamunda Devi.
Here Lord Shiva is also present in the form of death, destruction and dead bodies along with the Devi. Chamunda Devi Temple is believed to be the abode of Shiva and Shakti, that's why it is also called Chamunda Nandikeshwar Dham also.
It is said, once the temple was situated in a dangerous remote place. About 400 years ago the king and a Brahmin priest prayed to the goddess to relocate the temple to an easily approachable place. After the consent from the Devi, the temple was shifted to its current location.
There is nothing great about the architecture of the temple but the aura here is good enough to give you goose bumps. Artwork from Devi Mahatmya, Ramayan and Mahabharata are showcased in the temple. Images of Hanuman and Bhairo on either side adorn the main Idol of Maa Chamunda.
The temple is visited by hundreds for devotees each day, and you have to stand in queue for hours for Mata's darshan.