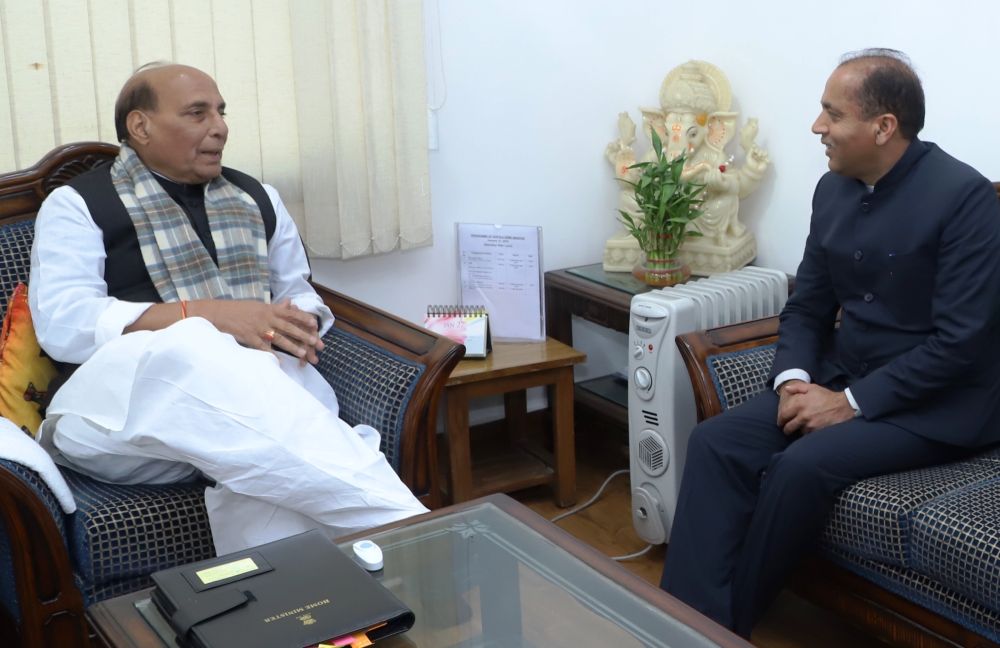 New Delhi: Demand for sanctioning a National Disaster Response Force (NDRF) Battalion for the Himachal Pradesh has again raised with the Union Government.
Chief Minister Jai Ram Thakur called on Union Home Minister Rajnath Singh in New Delhi today and urged for sanctioning a NDRF Battalion to the State.
The state of Himachal Pradesh is a disaster prone State and in case of natural calamities response teams take time to reach the spot and placement of NDRF battalion in the State would help in sending prompt relief to people in case of natural disasters. During natural calamities and other tragedies the state has to depend for help on NDRF battalion located in Bathinda.
The successive state governments have raised the demand to sanction Disaster Response Force to mitigate loses during the natural disasters, however, most of time failed to impress the Union Government. The state government had even selected the site in Kangra district.
Failing to get necessary nod from the Union Government, the previous government had mooted plan to have its own State Disaster Response Force (SDRF). The SDRF planned to comprise well-trained recruits. As per the plan three companies of 3rd Police Battalion, Pandoh, comprising as many as 300 jawans, are be given operational level training right from disaster response, prevention, mitigation and capacity building. They would be made capable of handling any adverse situation.
CM demands liberal financial assistance for modernization of police force
The Chief Minister also requested for liberal financial assistance for modernization of police force and also demanded for making allowances for Special Protection Officers posted in border areas of State at par with those posted in Jammu and Kashmir.
At present SPOs are getting only Rs 3000/- which is lesser than those of their Jammu and Kashmir counterparts, he added.
Jai Ram Thakur also urged the Union Minister for heli taxi services on subsidised rates for the State on the pattern of North Eastern State and added that this would not only help in tackling natural disasters promptly, providing connectivity to remote areas of State besides promoting tourism as well, he added.