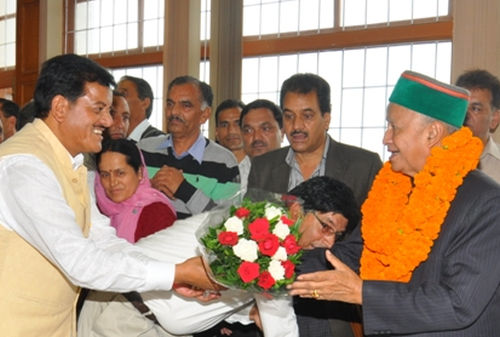 Chief Minister Virbhadra Singh has lauded the UPA Government for approving the Food Security Ordinance. The Ordinance was approved by the Union Cabinet yesterday. Terming this as a historic decision, Virbhadra Singh said that this reflects the commitment of the UPA Government towards the welfare of the poor and the downtrodden.
Virbhadra Singh said that the National Food Security Bill would give legal entitlement to over 67 per cent population of the Country for subsidized grains under the Targeted Public Distribution System. He said that this includes 75 per cent rural and 50 per cent urban population of the country. He said that objective of providing food and nutritional security to the masses was laudable as it would ensure 'Food for All'.
Chief Minister said that the MNREGA, RTI, AADHAR and now National Food Security Bill were some of the significant and historic decisions taken by the UPA Government which would go down in the annals of the country as a major milestone. He said that this decision of the Congress Government once again vindicate the fact that it is always concerned towards the welfare of the persons living at the lowest ebb.