Shimla: Chief Minister Jai Ram Thakur said that state government was very serious over the issue of water borne diseases and every possible step would be taken to prevent their outbreak in any part of the state. He stressed that all departments should work in close coordination to monitor the situation and public feedback should be taken on priority.
The Chief Minister, in a review meeting with the senior officers of the Health and Irrigation and Public Health departments today, directed to initiate an exercise to find out the reasons why viruses of water borne diseases were getting active every year. He said although there was no alarming situation, yet we need to adopt preventive measures at all levels to check outbreak of water borne diseases.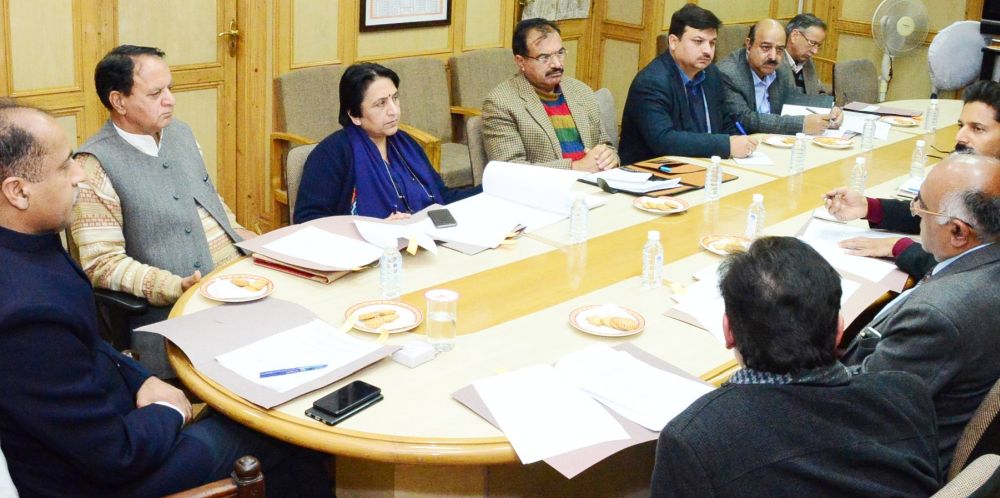 He directed the Rural Development department to ensure proper cleanliness of water bodies and adequate availability of bleaching powder at village level. He said the Municipal Corporations need work in close coordination with IPH department and all water tanks, reservoirs and traditional water sources should be chlorinated and cleaned regularly.
The Chief Minister asked for starting an extensive campaign to educate the masses about maintaining drinking water sources safe by involving panchayats, mahila mandals and schools. He directed I&PH department to chlorinate and maintain water reservoirs in all major towns of the State and motivate the people support the efforts of the government.He directed that sampling and testing of water was done properly and it should be ensured that there was no leakage in water tanks and water supply pipes.
Jai Ram Thakur said that government was mulling over upgrading 300 pumping schemes in the state and tube wells would be established after considering the justification of the demand of the people. He asked the IPH department to install adequate hand pumps wherever required and identify water sources to supply water through tankers.
Irrigation & Public Health Minister Mahender Singh Thakur said that directions had been issued for extra chlorination of water reservoirs and water samples were being taken from various reservoirs so that people get quality water. He informed 20,900 water tanks were cleaned during last 15 days. He said the feedback of people was also being collected. He informed that total 9394 water supply schemes were functional in the state and in case of dry spell, the department would install hand pumps besides reviving the existing. He said 1100 hand pumps would be installed in the state.
Health & Family Welfare Minister Vipin Singh Parmar said that long dry spell and excessive rains were the root cause of outbreak of water borne diseases. Last year 46 cases of jaundice were reported in the state while this year only nine cases had been reported including six of hepatitis A and three of hepatitis E. He said that Hepatitis tests were being done free of cost in all government hospitals besides providing free treatment facility.
Chief Secretary Vineet Chowdhary said directions had been given to the line departments for taking preventive measures in view of draught like situation so that water borne diseases could be averted. He said IEC had already been launched effectively throughout the State to educate the general masses and administration was fully geared up to tackle with any such situation.
Additional Chief Secretary and Principal Secretary to the Chief Minister Manisha Nanda, Principal Secretary, Health Prabodh Saxena, Secretary IPH Devesh Kumar, Secretary, Rural Development Dr. R.N. Batta, Director Information & Public Relations Anupam Kashyap and other senior officers of the State government were also present in the meeting.