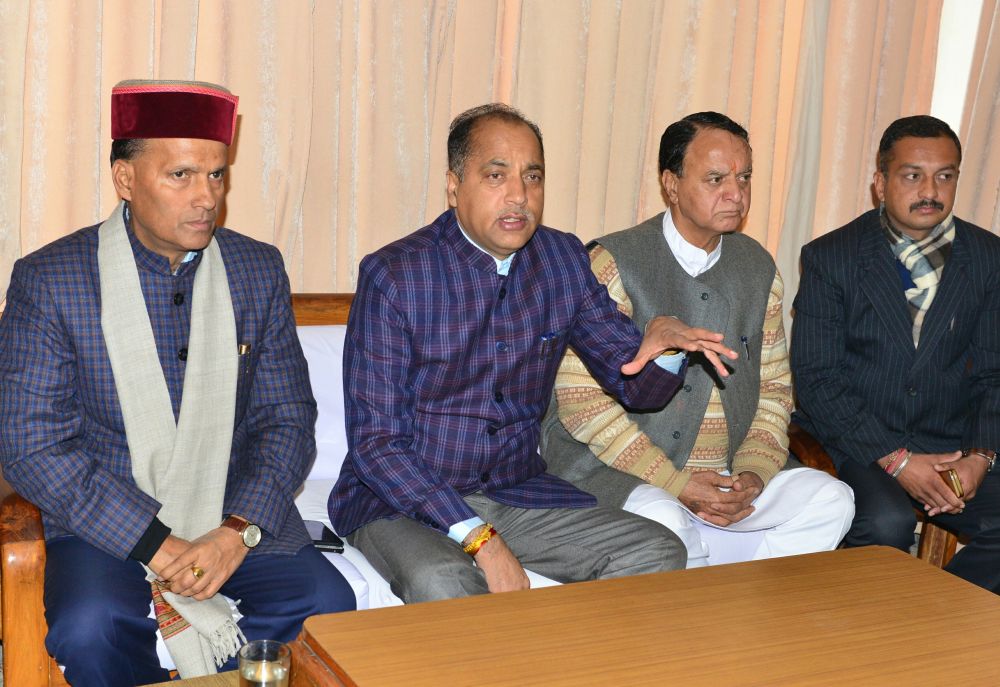 Mandi: Chief Minister Jai Ram Thakur directed to commission the much awaited Mandi Urban Water Supply by November 2018. The Chief Minister, in a meeting with the councillors of Municipal Council (MC) Mandi at Circuit House Mandi today, issued directions to the district administration and Municipal Council to work together to furbish and maintain the inroads of the town and complete the work of laying of water pipes well before international Shivratri festival commences as to avoid inconvenience to the people and 'Devlus', who accompany the local deities to the seven day long festival from far off corners of the district.
The parking problem of the town was also discussed in detail. The Chief Minister directed for identifying five to six places in the vicinity of the town for parking of vehicles to ease the traffic congestion.
Thakur announces developmental works for Seraj Segment
Chief Minister Jai Ram Thakur announced a sum of Rs. 10 lakh for Bakhli to Talao road, Rs. 10 lakh for Bekhdi to Katwanu road, Rs. 10 lakh for Road to Taash village, Rs. 20 lakh for road from Khaneti to Pung, Rs. 10 lakh for Maani-Shegli road, Rs. 10 lakh for Karthach to Punbal road and Rs.10 lakh for link road to Banoti.
The Chief Minister, while addressing public meeting at Bali Chowki in Seraj assembly segment on Sunday evening, announced a sum of Rs. 5 lakh for Sarai (inn) at Bali Chowki, rain shelter at Bali Chowki. He also directed to find a suitable place for Marketing Complex (vegetable yard) and announced Rs. 15 lakh for it besides preparing an estimate for the construction. He announced a sum of Rs. 3 lakh for GSSS building and Rs.1 lakh for repair of Govt. Primary School Bali Chowki and Rs. 6 lakh for additional rooms. He also announced up-gradation of GPS Narainmaa to Govt. Middle School and GMS Dhaned to Govt. High School.
The Chief Minister announced Rs. 3 lakh for temple at Maani. He also announced Sericulture Centre at Bali Chowki and announced Rs. 1.50 crore for the centre. He announced up-gradation of Primary Health Centre (PHC) Bali Chowki to Community Health Centre (CHC) and Sub-Division of HPSEBL to be opened at Bali Chowki.